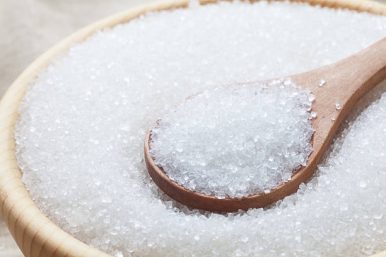 New Delhi, Sep 19 (PTI) Sugar prices tumbled up to Rs 170 per quintal at the wholesale market in the national capital Wednesday following slackness in demand at existing levels from stockists and bulk consumers amid ample stocks on record production.
Marketmen said mounting stocks in the market on relentless supplies form mills against muted demand from bulk consumers as well as stockists, dragged sugar prices down.

Besides, record output this marketing season too had its pressure on the sweetener prices, they added.
Sugar mill delivery M-30 and S-30 prices recorded a steep fall of Rs 120 each to Rs.3240-3,480 and Rs.3230-3,470 per quintal.
Sugar ready M-30 and S-30 prices also fell by Rs 100 each to conclude at Rs.3500-3,700 and Rs.3490-3,690 per  quintal.
In the mill gate section, the sharpest fall of Rs 170 each recorded in sugar Dhanora, Simbholi and Khatuli to end at Rs.3410, Rs.3390 and Rs.3430 per quintal respectively.
Sugar Asmoli dipped by Rs 130 to Rs.3430, Kinnoni dropped by Rs 120 to Rs.3480, while Mawana, Dorala, Budhana, Thanabhavan and Dhampur lost Rs 80 each to Rs.3335, Rs.3330, Rs.3320, Rs.3310 and  Rs.3240 per quintal respectively.
Following are today's quotations (in Rs per quintal)
Sugar retail markets – Rs 37-43 per kg.
Sugar ready: M-30 Rs.3500-3,700, S-30 Rs.3490-3,690.
Mill delivery: M-30 Rs.3240-3,480, S-30 Rs.3230-3,470.
Sugar millgate (Excluding Tax): Mawana Rs.3335, Kinnoni Rs.3480, Asmoli Rs.3430, Dorala Rs.3330, Budhana Rs.3320,  Thanabhavan Rs.3310, Dhanora Rs.3410, Simbholi Rs.3390, Khatuli  Rs.3430, Dhampur  3,240, Sakoti 3,230, Modinagar 3,270, Shamli 3,250, Malakpur Rs.3260.