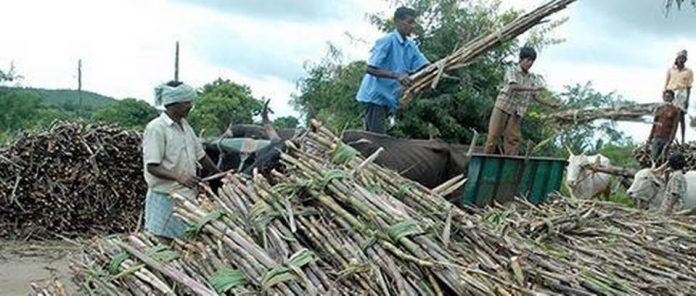 Image Credits: The Hindu Business Line
A substantial increase in sugarcane yields in Maharashtra and North Karnataka has forced the sugar industry to revise upwards the production estimates of the sweetener to a record 29.5 million tonnes (mt) for the current 2017-18 season.
The latest projections by the Indian Sugar Mills Association (ISMA) are 13 per cent higher than the previous estimate of 26.1 mt.
Maharashtra and Karnataka are seen reporting one of the highest ever sugarcane yields of around 100 tonnes per hectare and 91 tonnes per hectare respectively this year. This is mainly on account of extended rains during the latter half of the monsoon season. Last year, these States — reeling under the impact of drought — had reported yields of around 60 tonnes/ha. "Sugar production till end February stood at 23.05 mt. Considering that 479 sugar mills are still crushing and also taking into the account higher yields reported from two States (Maharashtra and Karnataka), ISMA has revised its estimates for the current season to 29.5 mt of sugar," the association said in a statement.
Uttar Pradesh is expected to produce 10.51 mt, while the output in Maharashtra is likely to be around 10.1 mt. Karnataka is seen producing 3.54 mt in the current season.
Export commitments
ISMA's latest projection of 29.5 mt in current season will be 4.5 mt higher than the estimated domestic consumption of 25 mt. "A part of this needs to be exported in the next 6-7 months within this sugar season itself, to reduce the burden of surplus sugar in the country. This, in turn, will give extra cash flows to the sugar mills to ensure better payment to the farmers and reduction in the cane price arrears, which is accumulating very fast to uncomfortable levels," ISMA said.
Raw sugar slips
Meanwhile, Reuters said that the increased sugar production outlook in India has added to the concerns on excess global supplies pulling down the raw sugar futures. May raw sugar was down 0.15 cents, or 1.1 per cent, at 13.30 cents per lb by 1201 GMT.
"Domestic demand is supposed to be around 25 million tonnes, meaning that a lot of sugar will be left over to top up stocks or export," Commerzbank said in a market note. "How much sugar India ultimately exports will depend partly on whether it abolishes its 20 per cent export duty," the bank added. May white sugar fell $3.10, or 0.85 per cent, to $363.20 a tonne.