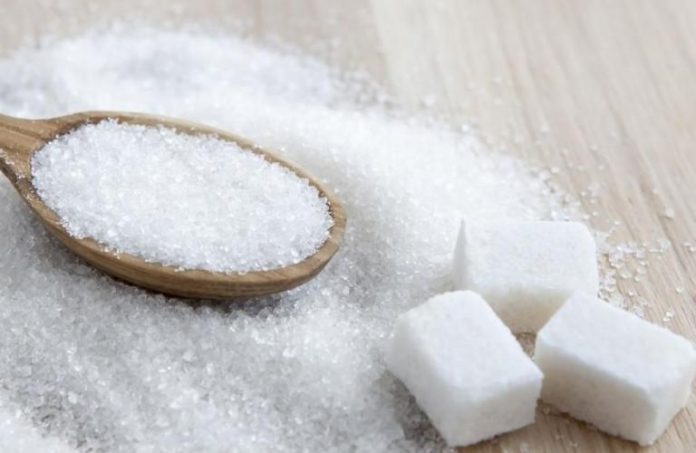 The price of sugar jumped by 3.5 per cent in the spot Agricultural Produce Market Committee (APMC), Vashi, near here, in anticipation of reduced supply from mills following lower quantity released by the Centre for July 2018.
After 2.1 million tonnes for June, the government on Friday allowed mills to sell 1.6 million tonnes of sugar in July against traders' expectations of over 2 million tonnes, which is equivalent to the monthly average release of nearly 2.13 million tonnes.
The proposed lower supply has pushed the price of the benchmark S 30 sugar up by Rs 100 a quintal. The variety was trading at Rs 3,020-3,070 a quintal in the benchmark Vashi APMC market on Saturday. Such a sharp jump in the daily sugar price has not been seen during the past few months. The reduction on the quantity of sugar released has lowered mills' cash liquidity and has aggravated the problem of cane arrears payable to farmers. The current selling price, however, works out to Rs 500 lower than the average cost of production of Rs 3,500 a quintal.
"The current month quota is insufficient to meet consumers' demand despite being lean season, with lack of festivals and wedding or any other such occasions in this month. The release quantity is 23 per cent lower than the average monthly consumption of 2.13 million tonnes," a senior official of a large sugar mill said.
According to industry sources, the government has considered Maharashtra sugar mills, which were unable to sell their allotted quantity in June due to subdued prices, while taking the decision on sugar release. Several mills in Maharashtra, the country's second largest sugar producer, after Uttar Pradesh, were forced to sell their inventory at less than the government's fixed minimum selling price (MSP) of Rs 2,900 a quintal. Industry estimates the unsold quantity of sugar lying with the mills in Maharashtra at 200,000 tonnes.
"In June, sugar mills in Maharashtra could not finish sale of their allotted quota at Rs 2,900 a quintal. The quantity of their unsold stocks is estimated to be 200,000 tonnes," said an association Chairman.
Meanwhile, Vithalani says the allotted quota is reasonable due to lower consumption from soft drink, ice cream and other major industries.
"It is a reasonable balance quota due to lower consumption of the sweetener from large consumers industries including soft drinks, ice creams etc. Normally, consumption of chilling cold consumer products goes down with the onset of the monsoon," he added.
Sanjeev Babar, Managing Director, Maharashtra State Cooperative Sugar Factories Federation, however, feels that sugar release quantity will remain high at over 2.4 million tonnes August onwards, due to expectations of festival and occasional demand.
"Festival demand begins with the onset of the Shrawan month with increase in the consumption of sweets. Hence, the government should release above 2.5 million tonnes August onwards," he added.
Meanwhile, industry sources said sugar mills in Uttar Pradesh have urged the government to release more sugar to improve their financial liquidity.
Indian sugar mills are currently facing a supply glut due to bumper production of 30.5 million tonnes for the current season of 2017-18. The production figure is estimated to be even higher, at 31-32 million tonnes, in 2018-19.
The government has allowed three million tonnes of buffer stock and two million tonnes of sugar exports for the current season to improve liquidity with mills. Industry estimates sugarcane arrears of Rs 225-230 billion which mills have to pay to farmers.