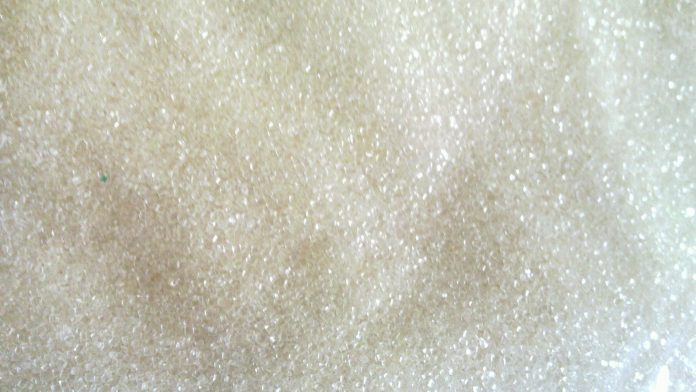 Image Credits: Wikimedia Commons
The central government's threat of strong action against sugar mills for mounting arrears of payment to cane farmers has come along with a sustained fall in the price of sugar.
Union food minister Ram Vilas Paswan has said he wrote last week to the governments of all major sugar producing states to take action in this regard. In the same period, both wholesale and factory-gate sugar prices have fallen by Re 1-1.5 a kg across the country. Mills protest that they are selling their produce at Rs 26 a kg, nearly Rs 5-6 a kg lower than at the start of the current crushing season last October.
Also, that the current price is about Rs 10 a kg less than the average cost of sugar production. Even after considering Rs 6 a kg realisation from byproducts, including distillation (molasses, rectified spirit and ethanol) and co-generation (energy), the loss is still about Rs 4 a kg.
And, with sugar production estimated to surpass consumption by around 20 per cent in the current season and the next, the price is forecast to fall further. The ex-factory price is soon expected to fall by another Re 1 a kg at the least.
"The crisis is deepening," said Sanjay Khatal, managing director, Maharashtra State Federation of Co-operative Sugar Factories. " The Union minister's direction to states for strict action has dampened bulk purchase sentiment further, as traders have started buying only to meet spot demand. They know mills are under pressure to sell their produce to clear cane farmers' mounting arrears. Hence, the stockists, bulk consumers, abstain from stock building; they will purchase on lows."
Overall cane payment arrears in th country are estimated at around Rs 180 billion, of which mills in Maharashtra account for Rs 23.5 bn — it is the highest ever for the latter.
The apex body, Indian Sugar Mills Association (Isma), has forecast the country's production at 29.5 million tonnes for the current season; it estimates consumption of 25.5-26 mt. With four mt of carryover stock from the previous year, the overall surplus might jump to 7.5-8 mt.
The government has, to reduce this surplus, also directed mills to export a cumulative two mt by September. The industry says this is impossible, as global prices have also been falling. Excess supply from Brazil and the European Union has led to a big slide in these; any exports would mean losses.
"Unless the government supports the industry with some incentives, handling the surplus sugar would be impossible," said Abinash Verma, director-general of Isma.
Mills in Maharashtra have urged that the Essential Commodities Act be used to fix the price at a minimum of Rs 32 a kg. "This is the only solution for mills to survive the current crisis, set to worsen with estimates of 30 mt of output forecast for the next season as well," said Khatal.
Experts say mills have already pledged their stocks to lenders for raising of working capital. If mills fail to repay in time, they would be charged two per cent penalty on the entire unpaid amount. That means more trouble ahead.