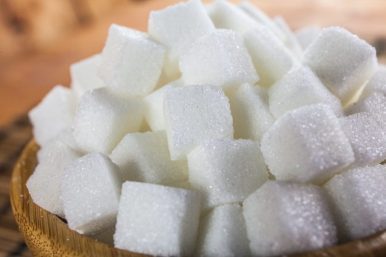 New Delhi, Sep 12 (PTI) Amid ample stocks against limited offtake, sugar prices came down sharply by up to Rs 70 per quintal at the wholesale market in the national  Wednesday.
Marketmen attributed a steep fall in the prices to huge stock positions following increased supplies, driven by record output.
Besides, absence off necessary offtake by stockists and bulk consumers, too, weighed on prices, they added.
Meanwhile, country's ouput reached at record 32 million tonnes in the 2017-18 season (October-September).
Sugar ready M-30 and S-30 prices plunged by Rs 70 each to finish the day at Rs.3250-Rs.3440 and Rs.3240-Rs.3430 per quintal.
Sugar mill delivery M-30 and S-30 prices too fell by Rs 60 each to Rs.3040-Rs.3210 and Rs.3030-Rs.3200 per quintal.
In the mill gate section, sugar Dhampur declined the most by Rs 65 to Rs.3050 per quintal.
Sugar Sakoti and Modinagar dipped by Rs 55 each to close at  Rs.3070 and Rs.3075, while Budhana, Thanabhavan and Malakpur dropped by Rs 50 each to Rs.3095, Rs.3085 and Rs.3070 per quintal respectively.
Prices of Mawana, Shamli and Dorala slipped by Rs 45 each to  Rs.3100, Rs.3055 and Rs.3100, meanwhile, Asmoli, Dhanora and Simbholi fell by Rs 40 each to all settle at Rs.3180 each per quintal.
Following are today's quotations (in Rs per quintal)
Sugar retail markets – Rs 34-40 per kg.
Sugar ready: M-30 Rs.3250-Rs.3440, S-30 Rs.3240-Rs.3430.
Mill delivery: M-30 Rs.3040-Rs.3210, S-30 Rs.3030-Rs.3200.
Sugar millgate (Excluding Tax): Mawana Rs.3100, Kinnoni Rs.3210,  Asmoli Rs.3180,  Dorala Rs.3100, Budhana Rs.3095,  Thanabhavan Rs.3085,  Dhanora Rs.3180, Simbholi Rs.3180, Khatuli  Rs.3195, Dhampur  Rs.3050, Sakoti Rs.3070, Modinagar Rs.3075, Shamli  Rs.3055, Malakpur Rs.3070,