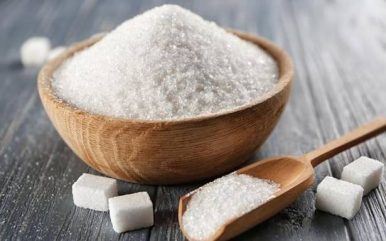 New Delhi, Sep 11 (PTI) There was no change in the pattern of trading at the wholesale sugar market in the national capital on Tuesday as prices continued to enquire at the previous closing levels in the absence of any worthwhile buying activity.
Marketmen said adequate stocks position against sporadic demand, mainly kept the sweetener's prices unaltered.

Following are today's quotations (in Rs per quintal)
Sugar retail markets – Rs 34-40 per kg.
Sugar ready: M-30 Rs.3370-3470, S-30 Rs.3360-3460.
Mill delivery: M-30 Rs.3100-3245, S-30 Rs.3090-3235.
Sugar millgate (Excluding Tax): Mawana Rs.3145, Kinnoni Rs.3245, Asmoli Rs.3220,  Dorala Rs.3145, Budhana Rs.3145, Thanabhavan Rs.3135, Dhanora Rs.3220, Simbholi Rs.3220, Khatuli  Rs.3230, Dhampur Rs.3115, Sakoti Rs.3125, Modinagar Rs.3130, Shamli  Rs.3100, Malakpur Rs.3120