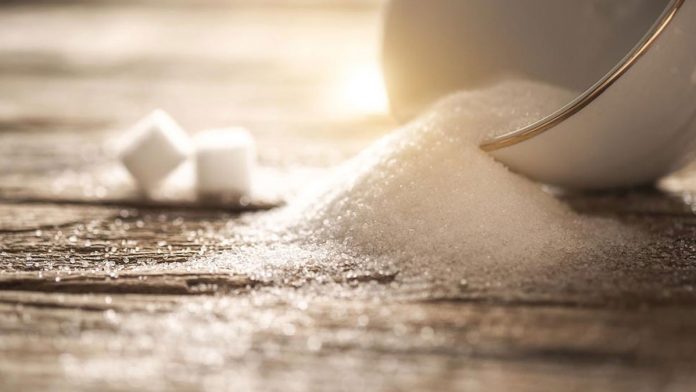 Sugar prices ruled mixed at the wholesale market in the national capital today on better offtake amid tight supply.
Marketmen said brisk buying by stockists and bulk consumers and pause in supplies from mills pushed up the prices of best quality sugar.
In contrast, lower quality sugar prices showed a fall due to slackness in demand amid ample supplies.
Sugar ready M-30 and S-30 prices settled at Rs 3,550-3,880 and Rs 3,540-3,870 as compared to overnight close of Rs 3,580-3,880 and Rs 3,570-3,870 per quintal.
Mill delivery M-30 an dS-30 prices also traded at Rs 3,450-3,740 and Rs 3,440-3,730 instead of Rs 3,480-3,660 and Rs 3,440-3,730 per quintal.
In the mill gate section, sugar Kinnoni hardened by Rs 80 to end at Rs 3,740, followed by Asmoli, which gained by Rs 50 to Rs 3,660 per quintal.
Prices of Dhanora moved up by Rs 30 to Rs 3,620, while Budhana and Thanabhavan went up by Rs 20 each to Rs 3,560 and Rs 3,550 per quintal, respectively.
On the other hand, sugar Sakoti slipped by Rs 60 to Rs 3,450, while Malakpur lost Rs 40 to Rs 3,480 per quintal.
Following are today's quotations (in Rs per quintal)
Sugar retail markets – Rs 36-41 per kg.
Sugar ready: M-30 Rs 3,550-3,880, S-30 Rs 3,540-3,870.
Mill delivery: M-30 Rs 3,450-3,740, S-30 Rs 3,440-3,730.
Sugar millgate (including duty): Mawana Rs 3,550, Kinnoni Rs 3,740, Asmoli Rs 3,660, Dorala Rs 3,550, Budhana Rs 3,560, Thanabhavan Rs 3,550, Dhanora Rs 3,620, Simbholi Rs 3,620, Khatuli Rs 3,670, Dhampur Rs 3,490, Sakoti 3,450, Modinagar 3,480, Shamli 3,470, Malakpur 3,480, Ramala not available, Anupshaher N.A, Baghpat N.A., Morna N.A., Chandpur N.A., Nazibabad N.A and Nanota N.A.