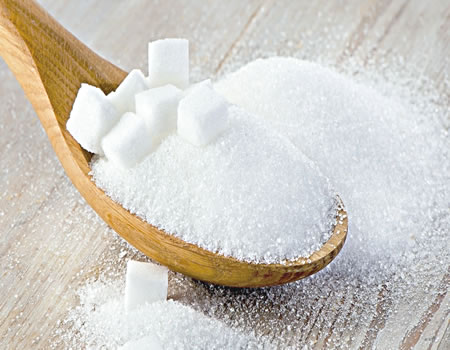 Image Credits: tribuneonlineg.com
Sugar prices declined by up to 1 per cent to hit the lowest in 27 months in the wholesale Vashi mandi here on Friday due to increased supply from stockists and lack of demand.
On Friday, the benchmark variety of sugar 'M' declined by Rs 15-30 to close at Rs 3,060-3,272 a quintal in the Agricultural Produce Market Committee (APMC), Vashi. Its median price (average of high and low) dipped by Rs 22 to Rs 3,166 a quintal. The ex-factory price, however, has declined by Rs 70 to trade at Rs 2,750-2,800 a quintal against the closing price of Rs 2,820-2,870 a quintal a day earlier.
Sugar prices have witnessed a sustained decline since the beginning of the current crushing season in October 2017. So far this season, the benchmark variety 'M' has lost 18 per cent of its median value on expectations of a bumper supply for crushing seasons 2017-18 and 2018-19.
"The market is facing a huge supply glut. Sugar traders are offering lower prices to reduce inventory. Even mills have cut their offers on expectations of a further increase in their output. Sugar mills are under pressure to sell their inventory to clear cane dues. Prices are likely to remain under pressure throughout this year," said Ramesh Raj, proprietor, Kalpesh Trading Co, a Vashi-based wholesaler.
A sharp increase in output this year has hit the supply of the sweetener in the last few weeks. The Indian Sugar Mills Association (ISMA) has reported a 45 per cent increase in total sugar output at 28.18 million tonnes (mt) as of March 31, 2018 against 18.89 mt a year ago.
In the second Advanced Estimates, ISMA forecast the country's total production at 29.5 mt for the 2017-18 crushing season compared with 20.3 mt in the previous year. With around 4 mt of carry-over stock, total supply for the current year is estimated at 33.5 mt. The overall scenario, too, appears bleak with 30 mt output expected next year.
"Considering lower sugar realisation from domestic sales as well as a muted global sugar market, mills are unable to generate sufficient funds for the payment of cane dues," ISMA said in a recent statement.
The industry body estimates the country's total cane arrears to range between Rs 160 billion and Rs 170 billion by the end of March 2018. Maharashtra and Karnataka each would have Rs 72 billion and Rs 25 billion dues, respectively.
"The supply situation in India has an effect on the movement of international sugar prices. Though India is not the largest sugar exporter globally, the country offloads the sweetener when in surplus. During the sugar year 2017-18, the government has allowed 2 mt of sugar export in view of a 45.4 per cent year-on-year rise anticipated in production during the year. Also, sugar output from the European Union, China and Thailand is expected to rise adding to global sugar supply. This is likely to create pressure on international prices in 2017-18," said Bhagyashree Bhati, research analyst, CARE Ratings.
The international sugar prices have also declined 23.9 per cent from the $465.1-per-tonne-level in April 2017 to $354.1 per tonne in March 2018. The International Sugar Organisation (ISO) forecast global sugar surplus of around 5.2 mt for 2017-18 in March 2018. The ISO estimates world sugar production at 178.7 mt (up 6.2 per cent from 168.2 mt in 2016-17) and consumption at 173.6 mt (higher by 1.6 per cent compared with 170.8 mt in 2016-17) in 2017-18.