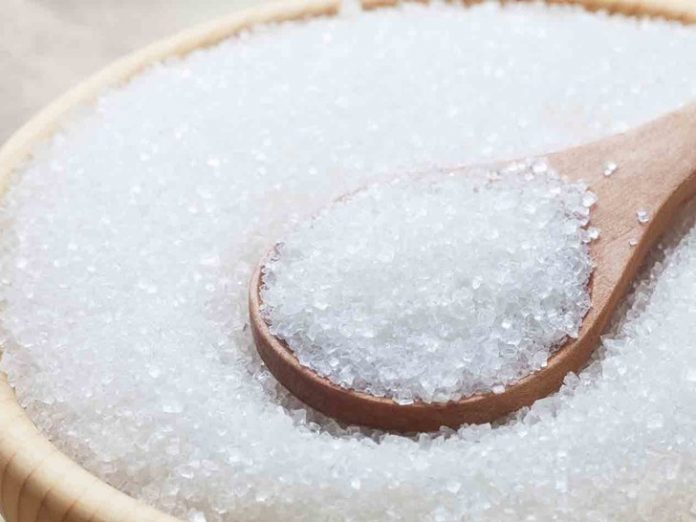 Sugar prices registered sharp gains of up to Rs 330 per quintal at the wholesale market in the national capital today as ongoing new month demand outstripped the supply.
Marketmen said heavy buying by stockists and bulk consumers such as soft-drink and ice-cream makers for ongoing new month, triggered by tight supplies from mills, mainly brought the notable upside movements in the sweetener's prices.
Sugar ready M-30 and S-30 prices jumped up from Rs 3,400-3,550 and Rs 3,390-3,540 to finish the day at Rs 3,580-3,880 and Rs 3,570-3,870, showing a hefty bounce of Rs 330 per quintal.
In a similar way, sugar mill delivery M-30 and S-30 prices climbed up from Rs 3,200-3,380 and Rs 3,190-3,370 to conclude the day at Rs 3,480-3,660 and Rs 3,470-3,650, depicting a bounce of Rs 280 per quintal.
In mill gate section, sugar Mawana and Malakpur shot up by Rs 320 each to finish at Rs 3,560 and Rs 3,520, Khatuli hardened by Rs 310 to Rs 3,630, while Dorala by Rs 300 to Rs 3,610 per quintal.
Sugar Budhana and Thanabhavan rallied by Rs 290 each to Rs 3,540 and Rs 3,530, while Kinnoni spurted by Rs 280 to Rs 3,660 and Dhampur by Rs 270 to Rs 3,480 per quintal.
Following are today's quotations (in Rs per quintal)
Sugar retail markets – Rs 36-41 per kg.
Sugar ready: M-30 Rs 3,580-3,880, S-30 Rs 3,570-3,870.
Mill delivery: M-30 Rs 3,480-3,660, S-30 Rs 3,470-3,650.
Sugar millgate (including duty): Mawana Rs 3,560, Kinnoni Rs 3,660, Asmoli Rs 3,610, Dorala Rs 3,540, Budhana Rs 3,540, Thanabhavan Rs 3,530, Dhanora Rs 3,590, Simbholi Rs 3,620, Khatuli Rs 3,630, Dhampur Rs 3,480, Sakoti 3,510, Modinagar 3,480, Shamli 3,460, Malakpur 3,520, Ramala not available, Anupshaher N.A, Baghpat N.A., Morna N.A., Chandpur N.A., Nazibabad N.A and Nanota N.A.