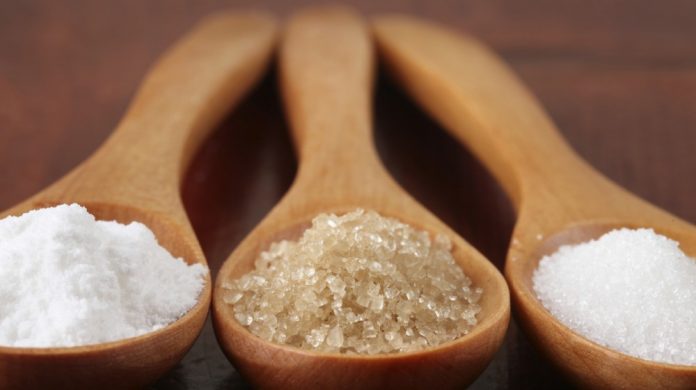 Sugar prices staged a strong comeback by bouncing up to Rs 200 per quintal at the wholesale market in the national capital today, supported by speculative buying by stockists as well as bulk consumers amid thin supplies. Traders said emergence of buying by stockists, mostly of a speculative nature on talks that the government might announce some more measures to curb falling sweetener prices.
Besides, pick up in offtake at current attractive levels by bulk consumers such as ice-cream and soft-drink makers supported the recovery in prices, they added.
Coming to price section, sugar ready M-30 and S-30 soared by Rs 200 each to settle the day at Rs 2,950-3,080 and Rs 2,940-3,070 per quintal, respectively.
Mill delivery M-30 and S-30 prices also climbed by Rs 160 each to conclude at Rs 2,700-2,840 and Rs 2,690-2,830 per quintal.
In the mill gate section, sugar Dorala and Sakoti recorded a hefty rise of Rs 180 each to finish at Rs 2,770 and Rs 2,750, while Mawana and Asmoli shot up by Rs 170 each to Rs 2,760 and Rs 2,820 per quintal.
Prices of Kinnoni spurted by Rs 160 to Rs 2,840, while Khatuli and Malakpur hardened by Rs 155 each to Rs 2,830 and Rs 2,740 per quintal.
Following are today's quotations (in Rs per quintal)
Sugar retail markets – Rs 31.00-33.00 per kg.
Sugar ready: M-30 Rs 2,950-3,080, S-30 Rs 2,940-3,070.
Mill delivery: M-30 Rs 2,700-2,840, S-30 Rs 2,690-2,830.
Sugar millgate (including duty): Mawana Rs 2,760, Kinnoni Rs 2,840, Asmoli Rs 2,820, Dorala Rs 2,770, Budhana Rs 2,740, Thanabhavan Rs 2,750, Dhanora Rs 2,810, Simbholi Rs 2,820, Khatuli Rs 2,830, Dhampur Rs 2,700, Sakoti 2,750, Modinagar 2,740, Shamli 2,700, Malakpur 2,740, Ramala not available, Anupshaher N.A, Baghpat N.A.,Morna N.A., Chandpur N.A., Nazibabad N.A and Nanota N.A.