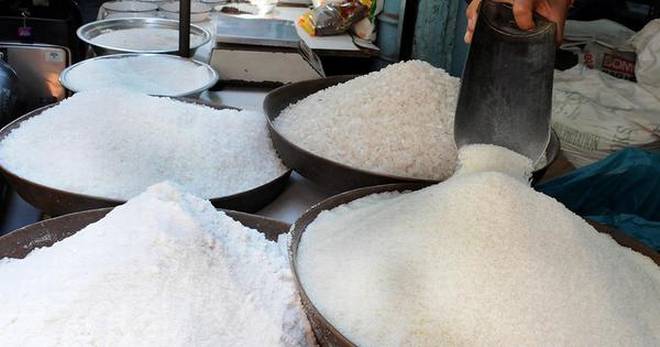 Sugar mill gate prices rose by Rs 40 per quintal at the wholesale market in the national capital today, largely supported by halt in supplies amid pick up in buying activity.
Marketmen said besides frantic buying by stockists and bulk consumers such as soft-drink and ice-cream makers, triggered by ongoing summer season, pause supplies from by millers, bolstered sweetener prices.
Moreover, reports that government was planning to create buffer stocks and fixing minimum sale prices to curb falling sugar prices due to record output this marketing year, supported the recovery, they added.
Prices of sugar mill delivery M-30 and S-30 were higher by Rs 40 each to end the day at Rs 2,840-3,120 and Rs 2,830-3,110 per quintal.
In the mill gate section, sugar Kinnoni, Asmoli, Dhampur and Sakoti too spurted by Rs 40 each to Rs 3,120, Rs 3,020, Rs 2,880 and Rs 2,930, while Mawana, Dhanora and Modinagar gained by Rs 20 each to Rs 2,980, Rs 3,010 and Rs 2,920 per quintal respectively.
Following are today's quotations (in Rs per quintal)
Sugar retail markets – Rs 33.00-36.00 per kg.
Sugar ready: M-30 Rs 3,200-3,350, S-30 Rs 3,190-3,240.
Mill delivery: M-30 Rs 2,840-3,120, S-30 Rs 2,830-3,110.
Sugar millgate (including duty): Mawana Rs 2,980, Kinnoni Rs 3,120, Asmoli Rs 3,020, Dorala Rs 2,970, Budhana Rs 2,980, Thanabhavan Rs 2,980, Dhanora Rs 3,010, Simbholi Rs 3,040, Khatuli Rs 3,050, Dhampur Rs 2,880, Sakoti 2,930, Modinagar 2,920, Shamli 2,880, Malakpur 2,920, Ramala not available, Anupshaher N.A, Baghpat N.A.,Morna N.A., Chandpur N.A., Nazibabad N.A and Nanota N.A.