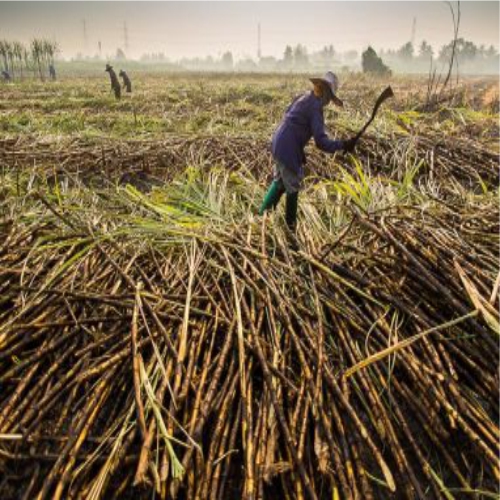 According to the latest available data, about 12.337 million sugarcane workers are engaged in the cultivation of sugarcane in India, which accounts for 1.427 per cent of the total rural population of India. The research paper by Dr. Rajesh Kumar, Principal Scientist and In charge AKMU at ICAR-Indian Institute of Sugarcane shows nearly 82.82 per cent are marginal and small sugarcane land holdings, which occupies nearly 54.44 per cent sugarcane area. Five lakhs skilled and unskilled workers, including highly qualified and trained technologists, are engaged in the manufacturing of sugar.
His research paper indicates, In India, the average size of holding for all operational classes (small, marginal, medium and large) have declined over the year, and the same for all classes put together has come down to 1.15 hectare in 2010-11 from 2.82 hectares in 1970-71. Whereas in the case of sugarcane, a picture is entirely reverse. The average size of holdings for all operational classes of sugarcane farmers in the country (Small, marginal, medium and large) have increased over the years, and the same for all classes put together has increased to 8.82 hectares in 2010-11 from 0.60 hectares in 1995 to 1996. The same trends were also indicated in all the classes of sugarcane farmers (small, marginal, medium and large). During last 15 years (1995-1996 to 2010-11), the importance of sugarcane has increased in the country drastically among all classes of sugarcane farmers (small, marginal, medium, and large). The area under sugarcane in case of medium and a large farmer is increasing.

The sugarcane is one of the most important than the other crops as it is more remunerative. It contributed nearly 0.69 per cent in GDP of the country in the year 2014-15 with an area of nearly 5.14 million hectares and the same trend is expected to follow in coming years also.
According to latest available data, out of 451 sugarcane growing districts in the country, 43 most important sugarcane growing districts contributes nearly 75 per cent cane area and cane production and rest 25 per cent is contributed by the next 109 districts. In high priority 43 sugar cane growing districts of the country, marginal (less than 1.0 ha) and small (1.0 to 2.0 ha) farmers contribute nearly 60 per cent of each category of the priority area.
Whenever, the policies to be farmed for farmers of 6.26 million sugarcane land holdings, these 43 high cane spread districts should be given greater thrust on technology development and extension activities. It is interesting to note that districts with high spread cane area and total production are very powerful in reducing rural poverty. It denotes that sugarcane helps in reducing the poverty of the rural population to enhancing the income of rural farmers.