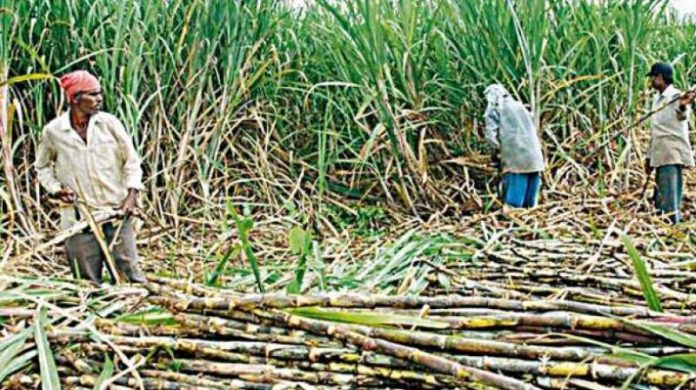 BELAGAVI: Unable to cope with the crisis the agricultural sector in the state is going through, many sugarcane growers have taken "the extreme step", but this hasn't woken up the government from a stupor it seems to be in, they rue. It has come to light that factories in sugar-rich districts of Bagalkot, Vijayapura and Belagavi owe cane growers dues to the tune of `500 crore for the fiscal 2017-18. The total outstanding dues in Karnataka for the year stand at a whopping `1,500 crore. In Vijayapura alone, the dues are to the tune of `229 crore, `129 crore in Belagavi and `143 crore in Bagalkot.
Sugar factories pass the buck on. They attribute the import of about 5 lakh metric tonnes of sugar from Pakistan last fiscal, which forced the Centre to fix the price of sugar at as low as ` 29 per kg, for the rise of pending dues to farmers. President of State Sugarcane Growers' Association Kuruburu Shanth Kumar says unsold sugar piled up at factories, so they couldn't pay the growers. "It is only in recent months that the government stopped the import of sugar, and brought about other measures to help cane growers," he said.
Still, cane growers are struggling to eke out a living, and are unable to repay their debts as they have not yet been paid by the factories. Two sugar factories in Belagavi district recently settled pending dues of a sugarcane grower only after he sought permission from the Centre for mercy killing."The factories should not have bought cane from us in the first place when they predicted collapse of sugar prices. After crushing the cane we gave them, the factories cheated us. It is the responsibility of the factories to pay us for what we sold to them,'' cane grower Shivanand Patil told The New Indian Express from Hirebagewadi.
In the course of the last few years, many cane growers committed suicide in the state, while some others died because they were unable to afford medical bills. While farmers organisations are on protests demanding their dues, the state government is still grappling with the issue of farmers' loan waiver and also not ready to get the pending bills of cane growers released from the sugar factories. As per government guidelines, sugar factories must settle the bills within 15 days of buying cane from the growers.
Otherwise, factories must clear the dues along with the rate of interest on bills in the event of non-payment within a fortnight.Soubhagyalaxmi Sugar Factory owned by Public Administration Minister Ramesh Jarkiholi also owes crores of growers dues and is unwilling to settle it even after farmers staging protests at DC office premises.