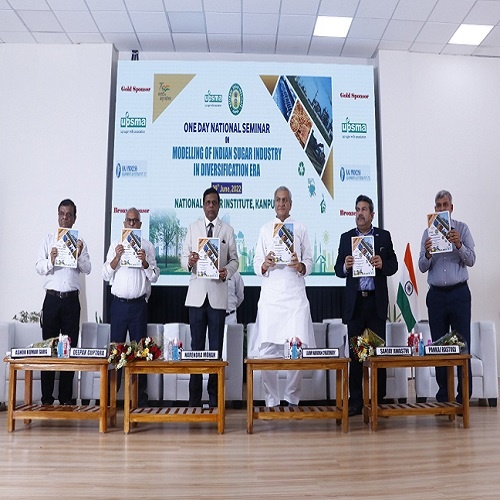 One day National Seminar on "Modelling of Indian Sugar Industry in Diversification Era" organized jointly by National Sugar Institute, Kanpur and U.P. Sugar Mills Association was inaugurated today by Shri Laxmi Narayan Chaudhary, Hon'ble Minister for Sugarcane Development & Sugar Industries, Government of Uttar Pradesh.
In his address, he called upon the sugar industry to come forward to take advantage of government incentives to convert sugar factories into complexes with thrust on ethanol production to improve their financial viability. While complimenting the sugar industry of Uttar Pradesh for contributing highest quantities of ethanol for blending, he advised sugar factories to protect the interest of sugarcane farmers and other stakeholders as well.
Shri Pankaj Rastogi, Chief Executive Officer, M/s Dalmia Bharat Sugars Ltd., shared his experiences about Brazilian model of sugar & ethanol production. The government has come out with very proactive policies and it is now the turn of sugar industry to come forward and adopt changes in the conventional system to move forward to achieve targets of sugar and ethanol production.
Shri Narendra Mohan, Director, National Sugar Institute in his key note address advised industry personnel to develop an "out of box thinking" to change the conventional model of sugar factories producing sugar to one having multiple products. From ethanol to green hydrogen and from sugar to dietary fibre, from fuel to eco-friendly cutlery, the sugar industry provides enormous opportunities for diversification. While it is necessary to diversify to improve economic sustainability, it also important to develop a robust self-sustainable model for ensuring availability of raw material and other infrastructural facilities and thus the capacities of sugar and other integrated units should be carefully planned, he said.
In the technical session, Shri Amit Negi, M/s Dalmia Bharat Sugars Ltd., Shri Pramod Mehdiyan, M/s Avadh Sugar & Energy Ltd., and Shri Shailendra Tripathi, M/s Seksaria Biswan Sugar Factory Ltd shared their experiences on changes required to be made in the processing house of sugar plant while diverting syrup and other process intermediates for ethanol production.
It is the need of hour to convert the existing plantation white sugar plants to modified raw-refined sugar plants having facility for diverting partial quantities of syrup and B Heavy molasses for ethanol production said Shri Anup Kumar Kanaujia, Assistant Professor Sugar Engineering in his presentation. This is one self-sustainable model which would require minimum investment and will result into restricting sugar production and boosting ethanol production, he said. Shri Mahendra Kumar Yadav, Technical Officer presented details of an innovative technology for producing refined sugar using carbon di-oxide gases from distillery fermenter and utilizing Mechanical Vapour Re-compressors for reducing cost of production of refined sugar.
Shri Anil Pise from M/s Raj Process Equipment & System presented details of technology for spray drying of effluent from molasses based distilleries and to convert it into valuable potash rich fertilizer. Presentation on various models of sugar factories while focusing on ethanol production were also presented by Shri Sanjay Awasthi, Business Head, M/s ISGEC, Noida and Shri Sura K Bhojraj, Consultant, Pune.
The programme was conducted by Ms. Anushka Kanodia, Shri Ashok Garg, Assistant Professor Sugar Technology gave concluding remarks and Shri Deepak Guptara, Secretary General, U.P. Sugar Mills Association extended vote of thanks.