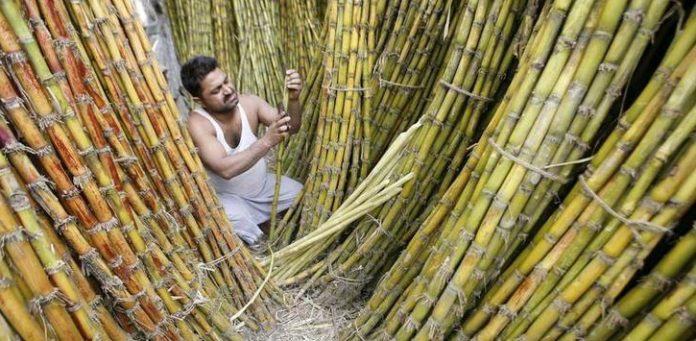 Image Credits: The Wire
AHMEDABAD: Sugarcane molasses-based distilleries in India are not only water guzzlers but purge a highly toxic residue— spent-wash or vinasse. This unusually viscous dark brown coloured pungent liquid after recovery of alcohol.
If let out untreated, it can cause huge damage to the soil, groundwater and rivers.
Now for the first time, Central Salt and Marine Chemicals Research Institute (CSMCRI) in Bhavnagar has developed a technology that not only extracts potash fertilizer (potash is generally imported at present in the country) besides getting nutritious cattle feed binder. Most importantly they extracted pure water from the toxic waste.
Industry experts have estimated that nearly 8-15 litres of toxic spent-wash is generated from production of each litre of ethanol. Realising this problem and the largescale environment damage the toxic waste was causing, in 2015, CSIR-CSMCRI director Dr Amitava Das formed a team of scientists with Pratyush Maiti, Dr Somya Haldar, Dr Subarna Maiti and Sanjay Patil to explore the possibility for utilizing the spentwash from distilleries as a potential resource for potash fertilizer along with recovery of residual organics.
The process will also provide a major impetus to the production of cleaner ethanol blended fuel production. Today, our country's current capacity can produce just 3% ethanol- blended fuels.
"If the CSIR-CSMCRI process is adopted, we can produce as much as 10% blended fuels as government will clear expansion of existing distilleries and allow new units," said Maiti.
The first pilot project of the CSIR-CSMCRI process was executed at Kamrej Sugar Mills in Navi Pardi in Surat, while the first commercial deployment of the process plant will be operational at Aurangabad Distillery Ltd in Maharashtra.
Maiti said that the spentwash is generally expelled by the distillery's fermenter blocks and consists of suspended organic and inorganic matter with high toxicity. The non-sugar portion of this coffee brown liquid is coagulated to precipitate out potassium and then converted to potassium sulphate, potassium nitrate and monopotassium phosphate to be used in fertilizers. Whatever is left is evaporated to recover pure water which is recycled back into the distillery plant.
"A normal 60 kilolitres per day distillery plant utilises 600 to 650 cubic meter of ground water, out of which 500 cubic meter of water can be recovered through this process and recycled," said Maiti. He added, "In our process nothing gets wasted. We extract a nutrition binder in cattle feed that replaces molasses, the distilleries will not be extract groundwater or pollute our precious river resources," said Maiti.