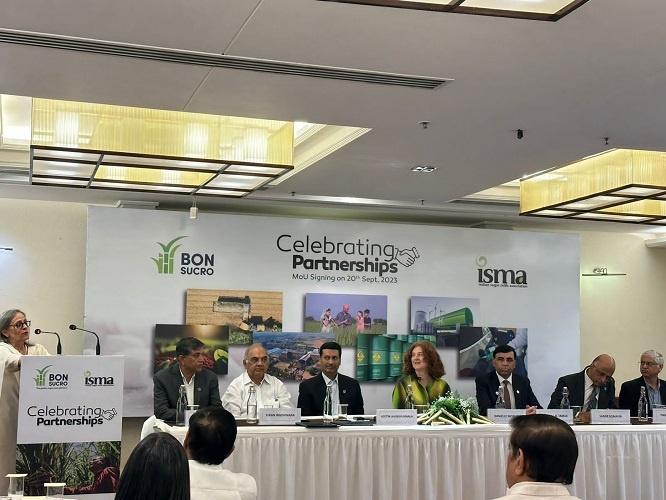 New Delhi (India), September 21: Bonsucro and the Indian Sugar Mills Association on Wednesday signed a Memorandum of Understanding (MoU) to share knowledge and to accelerate sustainability practices in the Indian sugar industry.
Bonsucro said that the MOU comes at a right time when the climate crisis is deepening and sustainability challenges require systemic change. India being the top sugarcane producer in the world is a priority country for Bonsucro. They further said that ISMA is the body representing private sugar mills in India, which is working towards the development and growth of the sugar industry. By collaborating, ISMA and Bonsucro can create a more sustainable sugarcane sector in India.
The Memorandum of Understanding includes knowledge sharing, capacity building, sustainability assessments, policy engagement, and advocacy.
Speaking on the occasion, Mr Aditya Jhunjhunwala, President of ISMA said, "Today we are starting a partnership for the planet, a partnership for our industry and for the recognition it deserves. Sugar and sustainability go hand in hand, no other crop has more potential to be a force of good for the planet as sugarcane whether it is through bio-power, bio-ethanol or other forms of bioenergy and with this partnership with Bonsucro we hope that these don't just remain words but also translate into certifiable, verifiable reality so that both the farmer and industry can benefit from their contributions to the planet."
Danielle Morley, CEO of Bonsucros, said, "India is rapidly changing and as the sugarcane sector looks to the future, knowledge-based collaborations like this are essential. By working more closely with ISMA, Bonsucro can support the Indian sugar and bioenergy sector to achieve net zero targets and contribute to the 2030 Sustainable Development Goals."
Both the companies plan to organise joint workshops and seminars to increase the capacity of staff working in sugar mills as well as farmers and broader stakeholders. These initiatives will focus on improving the environmental impact of sugarcane and strengthening the social approaches to sugarcane cultivation and processing as well as bioenergy production.