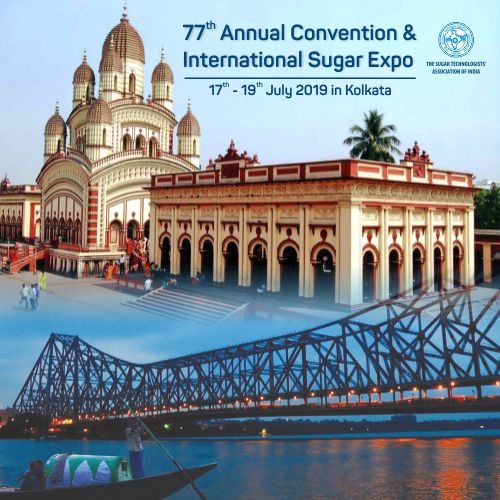 The Sugar Technologists' Association of India (STAI) is the national level apex association of professionals associated with the sugar industry and allied fields working with various sugar mills, refineries, distilleries, research institutes, technology providers, professionals from sugarcane agriculture and allied industries. The Association provides opportunities for the acquisition and dissemination of information, exchange of knowledge along with provision of facilities for presentation of papers and delivery of lectures on subjects connected with and useful to the profession. In this series, the Association organizes a number of seminars, workshops and an Annual Convention.
The Association's 77th Annual Convention is round the corner and it is said that this event would leave no stone unturned in presenting opportunities of meeting, learning and interacting with the who's who of the Sugar Fraternity. In conjunction with the Convention, an International Sugar Expo 2019 has also been arranged where the delegates will have an opportunity to meet and interact with nearly 80 service providers ranking from turn-key sugar plant manufacturers to small and medium enterprises who would be displaying their latest products, processes and services.

The Sugar Technologists' Association of India's 77th Annual Convention and International Sugar Expo 2019 which is also the biggest sugar industry event will be taking place from 17th to 19th July 2019 at the state-of-the-art Biswa Bangla Convention Centre, Kolkata.
In conversation with ChiniMandi.com, Mr. Sanjay Awasthi – President STAI said, "At present the Indian Sugar Industry is in transformational stage with ample opportunities available for diversification towards green bio-based products and in particular bio-ethanol. Diversion of sugarcane juice to ethanol can be a long term solution to the industry woes and can pave the way for a profitable and sustainable industry taking care of all its stake holders – growers, sugar mills, technology providers and consumers'.
The 3 days event will see in-depth deliberations and exchange of ideas among the researchers, technocrats, growers and policy makers to build road map for the inclusive growth and development of the sugar and allied industries."
Mr. Awasthi further added, "Around 800 to 1000 delegates from sugar and allied industry from India and abroad are expected to attend the event. Presentation of over 70 technical papers on sections like Sugarcane Agriculture, Factory Engineering, Factory Processing, Co-products etc. are on schedule. This event will also be followed by recognition for the talent and contribution made by the individuals in the growth and development of the sugar industry and awards them during the Convention'.
This will be the first time that the Convention will be taking place in Kolkata the erstwhile capital of India during the British era. Kolkata houses the corporate offices of India's oldest sugar mills and big groups like Balrampur, Birla, Riga. Kothari, Ganpati, Sasa Musa, Vishnu Sugars etc. With every passing year, the convention is not only gaining prominence but also fulfilling its objective of advancement of technology and dissemination of knowledge amongst the members of the sugar fraternity."