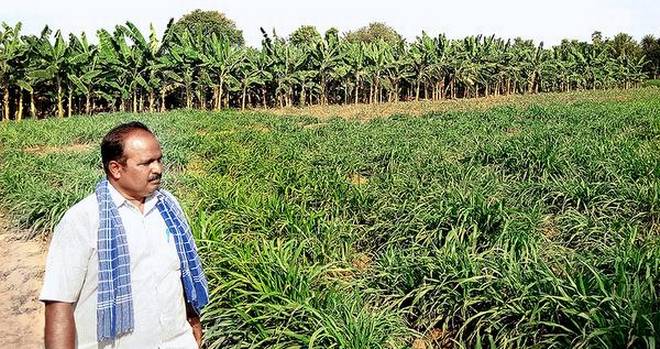 At a time when several farmers routinely rue lack of market conditions conducive to generating a satisfactory price for their agricultural produce, a Kumbakonam-based farmer shows how to make a decent profit by adopting innovative marketing techniques.
V. Ramachandran of Solaiyappan Street raises banana, paddy, sugarcane and green fodder on his 15 acres of leased land at Aalayadi, situated at the edge of the temple town.
Unlike a regular cane grower, who sells his produce to a sugar mill and waits for the mill to deposit a meagre amount in his loan account, Mr. Ramachandran decided to sell sugarcane harvested from his fields only to roadside vendors of cane juice.
He also produces and sells sugarcane sets to farmers on the recommendation of sugar mills. Thereby, he receives a regular income, while vendors get assured supply of cane.
When it comes to banana trees, Mr. Ramachandran is the most sought-after man in Kumbakonam. He has a long list of clients who come to him seeking banana trees for marriages and other auspicious events, when a pair of the trees with bunches of plantains are erected at the entrance of the pandal. And he gets a handsome price for them.
Again, there is never a dull day in Mr. Ramachandran's green fodder farm, as labourers find it difficult to meet demands for the produce. Dairy farmers make a beeline to his farm from day break to get hold of the green fodder harvested afresh every day.
Tulsi garden
He also has a tulsi garden, which supplies fresh leaves to numerous temples in the hallowed town.
"Seeing my father suffer continued losses season after season in raising paddy, I decided to resort to a better marketing strategy to sell my farm produce. That was how I came to formulate this approach to marketing my farm produce. This is reasonably profitable for me and I'm also providing jobs to at least 15 labourers daily which gives me more satisfaction than the money," he says.
"Farmers need to think of placing their farm produce in a better sales basket rather than rue about not getting the right price. If they can strategise their market approach, then what will stop them from earning better returns?'' Mr. Ramachandran asks.