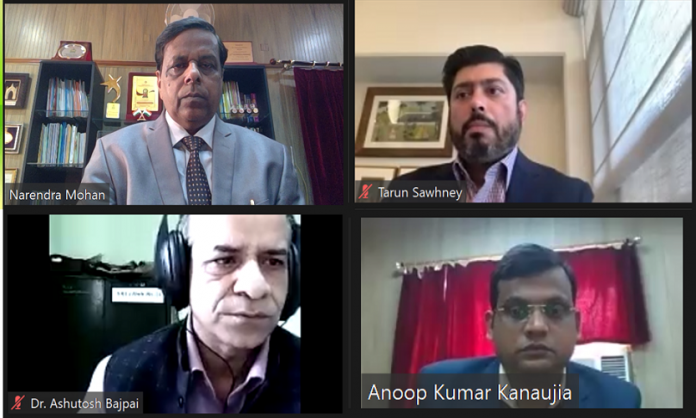 Three days online training programme on "Operation of Effluent Treatment Plants and Analysis of Effluents as per Standard Protocols" commenced today. The training programme has been organized by the institute on behalf of Central Pollution Control Board and is being attended by officers of various State Pollution Control Boards. The training programme is aimed at educating these officers on "Standard Operating Procedures" and to make them aware about newer technologies been developed for adoption in future.
The training programme was inaugurated by Shri Tarun Sawhney, Managing Director, M/s Triveni Engineering & Industries Ltd. In his address, Mr. Sawhney called upon the industry to explore possibilities of developing innovative, low cost, indigenous technologies for their implementation to achieve lower fresh water requirement besides ensuring discharges to be as per pollution control board norms. Ethanol production is being taken up in a big way to meet the requirements and it is expected that investments to the extent of about Rs. 50,000 crores shall be made in near future. Thus, it will call for manpower well versed with environmental issues and adoption of innovative technology. The Indian sugar industry can set benchmarks for the sugar industry across the globe, he added.
Prof. Narendra Mohan, Director made an elaborate presentation on current scenario of effluent management in sugar factories and distilleries and emphasized on adoption of "Best Available Technologies (BAT)" in the units. While sugar factories can provide surplus water to the society after due treatment, the molasses based distilleries can help in producing potash rich fertilizer and bricks etc. out of the ash obtained from the boilers. He also presented details of "Spray Drying" technique for converting spent wash (effluent) from distilleries into potash rich powder. By adopting such techniques, while on the one hand we can meet the requirements of pollution control boards, on the other hand value added products can be obtained out of the waste, he added.
Prof. D Swain and Dr. Ashutosh Bajpai of the institute also made presentation on the subjects related to water management in sugar factories and production of different sugar qualities respectively. The water and effluent management is to be made as per the quality of sugar produced because of process change, they said. The programme was conducted by Dr. (Mrs.) Seema Paroha, Prof. Biochemistry and Shri Anup Kanaujia, Asstt. Professor Sugar Engineering.