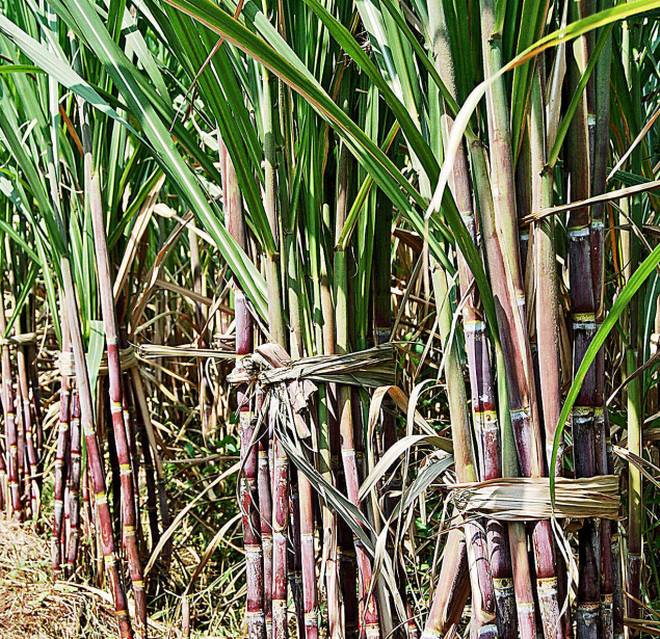 Image Credits: The Hindu
In a bid to build pressure over the government for more financial assistance, private sugar mills have delayed the payments of sugarcane growers. The sugar mill owners allege that they are incurring losses due to the sudden fall in the prices of sugar. Sugar price has fallen to Rs 3,000 per qintal from Rs 4,100 per quintal in the past three months.
The Saraswati Sugar Mill (SSM) of Yamunanagar, which is one of the largest sugarmills of the country and crushes about 30% of the total produce in Haryana, did not make any payment to the farmers since April 12 and the pending amount has reportedly increased to Rs 80 crore.
Though the Union government has announced financial assistance of Rs 5.50 per quintal for cane crushed by sugar mills in the ongoing season, the private mills seeking more assistance from the government say that they are unable to make payments because the state government has announced the State Advisory Price for sugarcane at Rs 330, Rs 325 and Rs 320 for early, mid and lateral varieties respectively, which is the highest in the country.
"The Rs 5.50 per quintal support by the Centre is insufficient. At present, we are selling sugar at Rs 2,700 per quintal against the production cost of Rs 3,400, thus, it is impossible for the mill to clear the pending payments of farmers without more aid from the government," said SC Sachdeva, chief operating officer of the SSM Yamunanagar.
As per the Sachdeva, the mill has already procured about 1.60 crore quintals of sugarcane this year against the target of 1.72 crore quintals.
Similarly, the Piccadilly Sugar Mill of Bhadson has also slowed disbursement of payments and only payments for sugarcane purchase till March 20 have been made.
On the other hand, farmers are demanding government help to get their payments from the mills. "The mills claim that they are in loss now and targeting farmers, but they never shared their profit with farmers when the prices of sugar were above Rs 40 per kg," said a sugarcane grower Parveen kumar of Karnal.
Meanwhile, Haryana Sugarfed chairman Chander Prakash Kathuria said, "We are thankful to the Union government for the given financial support to the farmers but we will soon hold a meeting and discuss the financial condition of the mills."
About the demand of more financial aid by the mills, he said, "Though the private mills have other options to generate income, we will look into the delay in payments to farmers."
The sugarcane acreage in the state has jumped to 1.25 lakh hectares against about 1 lakh hectare of last year and as per the government's projection, the sugar production in the state was likely to remain around 7.25 lakh tonnes against the 6.68 lakh tonnes of last year.