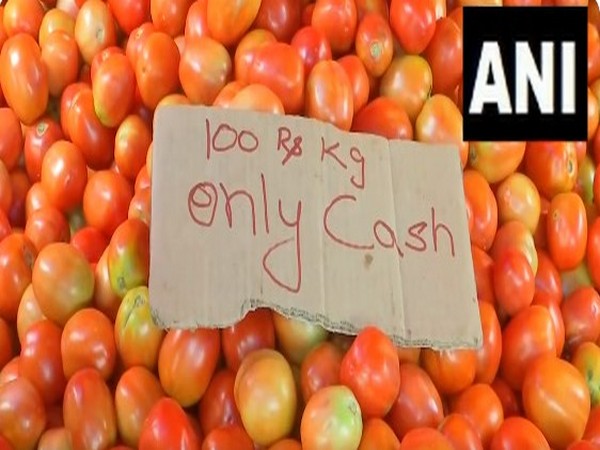 New Delhi [India], June 27 (ANI): Tomato prices have recently shot up in the markets across the country from Rs 10-20 per kg to a price of Rs 80-100 per kg. The reason behind this is the dip in supply due to heatwaves in tomato-growing areas and heavy rain.
Ajay Kedia, a Mumbai-based commodity market expert and head of Kedia Advisory said, "This year, for a variety of reasons, fewer tomatoes were sown than in prior years. As the price of beans surged last year, many farmers switched to growing beans this year. However, a lack of monsoon rains has caused the crops to dry out and wilt. The limited supply of vegetables, particularly tomatoes are due to crop damage caused by heavy rainfall and extreme heat."
Speaking to ANI, Mohammad Raju, a resident of Delhi said, "Tomato is being sold at a price of Rs 80 per kg. The rate has suddenly shot up in the past two-three days."
According to him, the sudden increase in price is due to heavy rainfall.
"Rain has destroyed tomatoes," added Mohammad Raju.
Tomato prices have also skyrocketed in the southern state of Karnataka and its capital city Bengaluru as incessant rains have damaged the crop and made transportation difficult.
The price of tomatoes touched Rs 100 per kg in a market in Bengaluru and traders said that due to heavy rain, the crops have been damaged.
Tomato, sold at Rs 40 to 50 per kg a week ago in the UP's Kanpur market is now being sold at Rs 100 per kg while in Delhi it is being sold at Rs 80 per Kg.
"Earlier, the price of Tomato was Rs 30 per kg, after that I bought it for Rs 50 per kg and now it has become Rs 100. Price is going to go up further and we're helpless, we have to buy," said Suraj Gaur, a resident of Bengaluru.
In Uttar Pradesh's Kanpur, the acute shortage of the essential vegetable is burning holes in common people's pockets. The wholesale prices range from Rs 80-90 per kg, and the retail shops are selling tomatoes for Rs 100 per kg.
According to vegetable vendors of a market in Kanpur, Karnataka, a major tomato supplier, saw heavy rains that destroyed the crops. The prices soared in just 10 days and are likely to increase further, the vendors added.
"Price rise is because of rain. Tomatoes are coming from Bengaluru. Within 10 days it will increase further. Every year during this month tomato prices usually increase," Lakshmi Devi, a vegetable seller at a Kanpur market said.
Due to rain, significant disruption in the supply of tomatoes has happened in Karnataka's tomato-growing districts of Kolar, Chikkaballapur, Ramanagara, Chitradurga and Bengaluru Rural.
Meanwhile, a customer in Kanpur said that he would stop buying tomatoes if prices increase further.
"I will stop eating tomatoes if the price increases. People from households like mine are worried about the price rise. How can we buy vegetables if prices increase like this?," Gopal a resident of Kanpur said.
Meanwhile, a trader in Kanpur said that the prices of tomatoes can shoot up to 150 rupees per kg in the coming days.
"The tomato rate has doubled in the last few days. We are not receiving tomatoes from local areas and there is an acute shortage of them. We rely on Bengaluru for supply in these two months, and in upcoming days, prices will shoot up to 150 rupees per kg", a trader said.
"We are selling tomatoes at Rs 100 kg. Due to rain, the prices have increased," says a tomato seller in Kanpur.
According to the database maintained by the Price Monitoring Division under the Department of Consumer Affairs, per kilo tomato on an average rose from Rs 25 to Rs 41 in retail markets. Maximum prices of tomatoes in retail markets were in the range between Rs 80-113.
The rates of staple vegetables were in tune with the rise in their prices in wholesale markets, which jumped about 60-70 per cent on an average in June. (ANI)