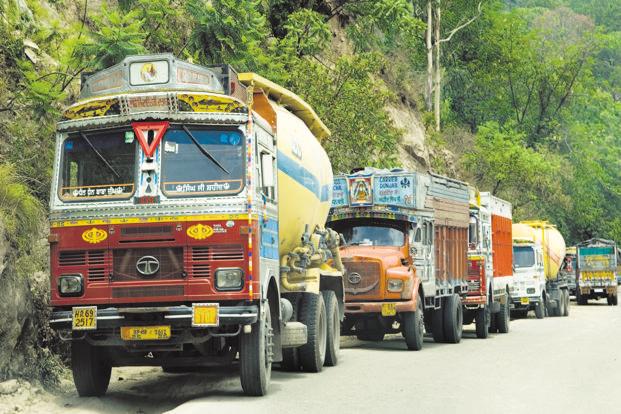 New Delhi: Transporters went on an indefinite strike today demanding government action on fuel prices and GST issues. But the strike call remained largely ineffective as truckers are hopeful of a solution today. All India Motor Transport Congress Secretary General Naveen Gupta told PTI that the body decided to go on strike this morning as "talks with Finance Minister Piyush Goyal, which continued till 1.30 am today, remained inconclusive." Gupta said the body is slated to meet ministry officials today. "We are hopeful of some concrete solutions today," Gupta said.
While private buses remained unaffected in Delhi, there was a reduction of about 40% in truck movement within the National Capital Region because of the strike.
"We had given relaxation to truck drivers to deliver essential goods and other items till 7 am on Friday. The real impact will now be seen from afternoon as the strike will come in force," said KS Atwal, chairman of All India Motor Transport Congress.
Atwal, however, said that trucks carrying essential goods would be allowed to operate.
In Uttar Pradesh, movement of over 4 lakh goods carriers were reportedly affected as part of the strike. About 1.5 lakh are off the road in Lucknow alone.
"All India Motor Transport Congress has started its nation-wide protest against the constant increase in diesel prices, toll expenses, GST compliance, problems with e-way bills and other issues," news agency ANI said in a tweet. The agency also reported that students in Maharashtra were inconvenienced by the transport strike.
The transporters' body claims to represent over 93 lakh truckers and around 50 lakh buses, tourist taxi and cab operators.
The government has been engaged in last-ditch efforts to avoid a transport strike. "We held a meeting with Union transport minister Nitin Gadkari today, but it was inconclusive," said Bal Malkit Singh, chairman of the core committee of the All-India Motor Transport Congress.
Truckers want diesel brought under GST so that its price can be reduced. They are also against the "flawed and non-transparent" toll collection system that favours road concessioners.
They want a reduction in third-party insurance premiums exemptions in direct taxes, national permits for all buses and trucks, and doing away with the direct port delivery tendering system.