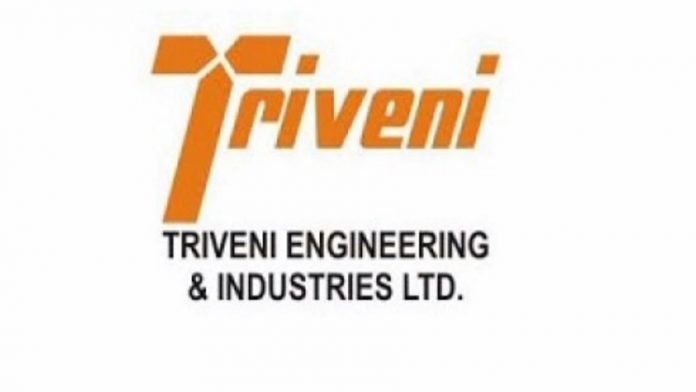 Triveni Engineering & Industries Ltd. ('Triveni'), one of the largest integrated sugar producers in the country, amongst the leading players in engineered-to-order high speed gears & gearboxes and a leading player in water and wastewater management business, today announced its financial results for the fourth quarter and full year ended Mar 31, 2022 (Q4/ FY 22). The Company has prepared the financial results based on the Indian Accounting Standards (Ind AS) and as in the past, has been publishing and analyzing results on a consolidated basis.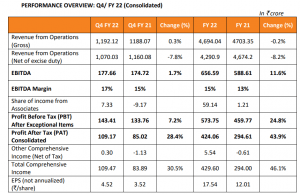 • Net turnover has declined by ~8% both in FY 22 and in the current quarter driven by the sugar segment due to lower sugar sales volume by 23% and 29% in the aforesaid periods, mainly due to the reason that no exports took place in respect of Sugar Season 2021-22.
• All other segments registered increase in turnover both in FY 22 and the current quarter as compared to corresponding periods.
• The Company registered highest ever annual profitability with profit before tax (PBT) increasing by 24.8% on a year-on-year basis to ₹ 574 crore.
• Profit Before Interest & Tax (PBIT) for the aggregate of Sugar & Alcohol segments grew by 13% and 14% during the year and current quarter. Higher domestic sugar prices by 8% in the current quarter and by 7% in the current year have helped sugar operations to maintain the profitability. In respect of distillery operations, both sales volumes and higher realization prices have contributed to increase in profitability.
• Engineering business at an aggregate level reported strong revenue increase of 16% and 25% and increase in profitability (PBIT) by 41% and 2% during the year and current quarter over corresponding periods. Power Transmission business was the key driver with the profitability increasing by 57% and 21% on a year-on-year basis during FY 22 and the current quarter respectively.
• The total debt on a standalone basis as on Mar 31, 2022 is ₹ 1503.74 crore as against ₹ 943.66 crore as on Mar 31, 2021. It comprises term loans of ₹ 395.83 crore, almost all such loans are with interest subvention or at subsidized interest rate. The total debt as on March 31, 2022 is higher than March 31, 2021 on account of higher sugar inventory levels and faster cane price payment. Overall cost of funds is at 5.00% during FY 22 as against 6.05% in the previous year. On a consolidated basis, the total debt is at ₹ 1567.96. crore as against ₹ 994.02 crore as on Mar 31, 2021. It comprises term loans of ₹ 460.05 crore.
Commenting on the Company's financial performance, Mr. Dhruv M. Sawhney, Chairman and Managing Director, Triveni Engineering & Industries Ltd, said:
"The Company has delivered extraordinary results for the year under review. All the businesses have contributed to improved profitability during the year. Increase in sugar realization prices by 7% largely compensated for the lower sales volumes by 23%. We estimate the country's sugar production at 35.6 million tonnes after diversion of 3.4 million tonnes to ethanol. The increase in production during the season, will be largely absorbed by the increased levels of exports of 9.5 million tonnes. Closing inventories at the end of the SS 2021-22 are expected to be lower than the previous closing by approximately 1.5 million tonnes. It augurs well for the sugar prices. However, it is important that during the ensuing sugar season, additional diversion to ethanol and exports should take care of the additional production (over consumption) so that the closing inventories remain at reasonable levels.
It is estimated that our crush level during the ongoing season will be almost at the same level as last year but the gross recoveries (including sugar diverted to ethanol) could be lower by about 20-25 basis points. The recoveries had been impacted due to excessive late rains and due to severe heat conditions since March'22.
Being in one of the most productive sugarcane growing areas of UP, we expect a higher sugarcane availability and crush (with increased sugarcane drawl) in the coming season, which is expected to be aided by a normal monsoon as forecasted.
The distillery segment reported strong performance in FY 22 driven by higher sales volumes and realization prices due to improved product mix and increase in price. The Company commissioned its greenfield multi-feed 160 KLPD distillery at Milak Narayanpur at the beginning of April 2022. The Company also enhanced operations at Sabitgarh from 160 KLPD to 200 KLPD. With these developments, the current distillation capacity of the Company is at 520 KLPD and is at an advanced stage to commission 60 KLPD grain distillery. The overall capacity will be further expanded through greenfield and brownfield projects to 660 KLPD by July 2022.
On the engineering side, we believe both our Power Transmission and Water businesses are well placed for the long-term investments expected in their respective business. The growth in turnover, profitability and order booking of Power Transmission is expected to continue next year as well. In Water business also, we see a sizeable opportunity in the near future, especially coming after sluggish periods of pandemic which dampened order finalization and the pace of execution.
On May 9, 2022, the Board of Directors have decided to divest the Company's entire shareholding in TTL, aggregating to 21.85% of the equity share capital of TTL keeping in mind the objectives of inter alia unlocking value for stakeholders, timely monetization of non-core-assets, unbundling of businesses, and enabling the long-term succession planning and facilitation of focused management for the Company. The proceeds from the divestment of equity shares of TTL are intended to be utilized for inter alia the growth and expansion for business as well as for rewarding shareholders of the Company in compliance with applicable law, subject to receipt of such approvals as may be relevant."