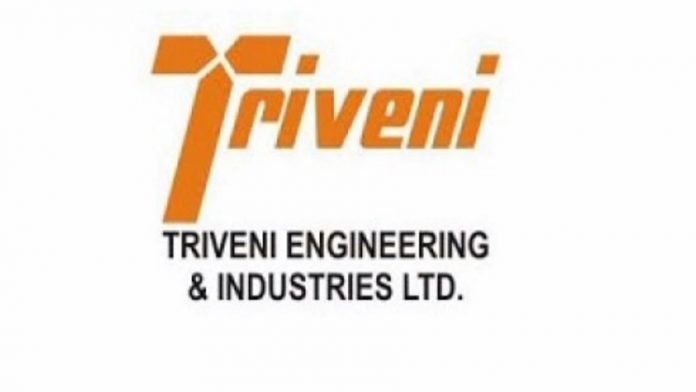 Noida, May 26, 2023: Triveni Engineering & Industries Ltd. ('Triveni'), one of the largest integrated  sugar producers in the country, a dominant player in engineered-to-order high speed gears &  gearboxes and a leading player in water and wastewater management business, yesterday announced its  financial results for the fourth quarter and full year ended Mar 31, 2023 (Q4/FY 23). The Company has  prepared the financial results based on the Indian Accounting Standards (Ind AS) and as in the past,  has been publishing and analyzing results on a consolidated basis. 
PERFORMANCE OVERVIEW: Q4/FY 23 (Consolidated Results) 
In ₹ crore 
Q4 FY 23 
Q4 FY 22 
Change % 
FY 23 
FY 22 
Change %

Revenue from Operations (Gross) 

1,818.3 

1,192.1 

52.5 

6,310.1 

4,694.0 

34.4

Revenue from Operations (Net of  excise duty) 
1,582.6 
1,070.0 
47.9 
5,616.8 
4,290.9 
30.9

EBITDA 

284.8 

177.7 

60.3 

696.3 

656.6 

6.1

EBITDA Margin 
18.0 
16.6 
12.4 
15.3

Share of income from Associates 

– 

7.3 

16.3 

59.1 

-72.4

Profit Before Tax (PBT) Before  

Exceptional Items 

250.6 
150.1 
66.9 
562.4 
580.5 
-3.1

Exceptional Items- income/(expense) 

– 

(6.7) 

1,401.2 

(6.7)

Profit Before Tax (PBT) After  

Exceptional Items 

250.6 
143.4 
74.7 
1,963.6 
573.8 
242.2
Profit After Tax (PAT) 
190.3 
109.2 
74.3 
1,791.8 
424.06 
322.5

Other Comprehensive Income (Net of  Tax) 

(2.5) 

0.3 

(3.8) 

5.5

Total Comprehensive Income 

187.8 

109.5 

71.6 

1,788.1 

429.6 

316.2

EPS (not annualized) (₹/share) 
8.08 
4.52 
78.8 
74.58 
17.54
All businesses have contributed to the growth boosted by higher sales across businesses. Higher sales volumes in the Alcohol business were due to new distillation capacities commissioned during the year, a large multi-feed distillery at Milak Narayanpur and a grain distillery in Muzaffarnagar as well as due  to the enhancement of capacities of the existing distilleries.
Profit before tax (PBT) before exceptional items declined marginally during FY 23 to ₹ 562.4 crore due  to the recognition of export subsidy of ₹ 57 crore in FY 22 pertaining to the previous year. PBT increased by 66.9% in Q4 FY 23 to ₹ 250.6 crore. 
Improved performance during FY 23 and Q4 FY 23 has been due to substantial profitability contributed  by sugar exports, higher sale volumes and increased realization prices for distillery products, higher  profitability of engineering businesses resulting from higher turnover and containment of finance cost  / treasury income arising from surplus funds. 
The total debt on a standalone basis as on March 31, 2023 is ₹ 824.96 crore as compared to ₹ 1503.74 crore as on March 31, 2022. Standalone debt at the end of the quarter under review, comprises term  loans of ₹ 301.08 crore, almost all such loans are with interest subvention or at subsidized interest  rate. On a consolidated basis, the total debt is at ₹ 913.83 crore as compared to ₹ 1567.96 crore as on  March 31, 2022. Overall average cost of funds is at 5.1% during FY 23 as against 5.0 % in the previous  year. 
Commenting on the Company's financial performance, Mr. Dhruv M. Sawhney, Chairman and  Managing Director, Triveni Engineering & Industries Ltd, said: 
"We are pleased with the performance of the Company during the year ended March 31, 2023 wherein several milestones were achieved – highest ever sugarcane crush in SS 2022-23, an increase of ~11%  year-on-year; record overall gross and net turnover of ₹ 6,310.1 and ₹ 5,616.8 crore respectively with  strong performance across the board; record alcohol production and sales following our capacity  expansion to 660 Kilo Liters Per Day (KLPD), and aggregate engineering business revenues of over ₹ 500 crore and segment results of over ₹ 100 crore. It is a matter of satisfaction to see the diversification  of our profitability: Alcohol and Engineering businesses have accounted for more than 50% of the total  segment results. It indicates that our business risks are getting well spread, leading to improvement  in our business risk profile.  
In the Sugar business, we are focused on variety replacement and yield maximization programmes through close farmer engagement and digital interventions. It will be accompanied with rationalization  and expansion of capacities. It is capable of giving us growth at nominal capex. Another issue which is  receiving greater management attention is to enhance the sugar realization price through value  addition, quality improvement and introducing premium products. After changing the manufacturing  process at our Deoband Unit, refined sugar constitutes ~60% of our total production and we hope to  further increase it to ~70% during next year. We would look forward to the Government's help in increasing the Minimum Selling Price (MSP) of sugar as the domestic sugar prices are stagnant and have not been able offset the increased costs, including sugarcane price increase in SS 2021-22, and  the possibility of another such increase in the forthcoming season.  
In the Alcohol business, the production and sales volumes have increased substantially following the  increase in distillation capacities during the year. The increased crush is providing more captive raw  material for our distilleries. During the current year, the revenues from the distilleries have contributed  21% of our net turnover and it will keep rising with our proposed increase in distillery capacity from  present 660 KLPD to 1110 KLPD. We believe that to meet the aggressive Ethanol Blended Petrol (EBP)  targets of 20%, the Government may need to rectify prices of ethanol produced from sugarcane juice  and grain, to improve project viability to facilitate further additions in capacities. 
Our engineering businesses are performing well and are well on track to grow long-term, in line with  our vision. The Power Transmission business had a record year, where apart from robust turnover and  profitability, the segment is making strides in the international markets and is witnessing exceptional  response from international customers. With investments in both Power Transmission and the Defence  business incubated within this segment, we are aiming to capitalize on both international and domestic  opportunities, especially driven by the Make in India initiatives of the Government of India. The Water  business is among the leading companies providing turnkey execution and operation of water and  wastewater treatment plants for both the municipal and industrial sectors. This segment reported its highest ever turnover in FY 23 driven by a focused approach towards execution. The segment is bidding  in and targeting more international projects with funding from reputed international agencies.  
Triveni has a long history of prudent approach to business by investing for growth and to improve its  market position with the ultimate aim to improve shareholder returns. In the last few years, the  Company has increased its diversification by focusing on high-quality capital expenditures such as  modernization of facilities, setting up additional distillation capacity using multiple feedstocks,  investments in new facilities for Power Transmission & Defence, among others and we believe these  will lead to long-term value creation for shareholders."