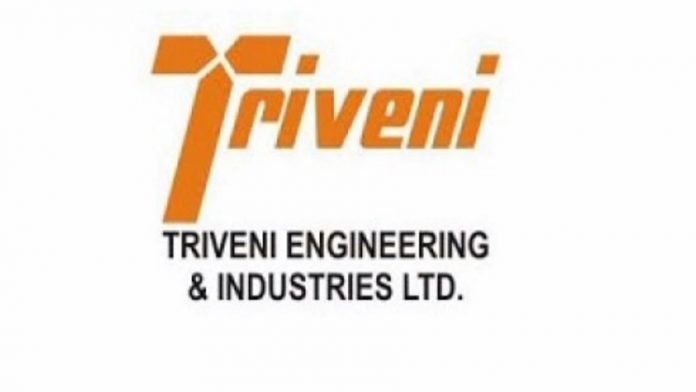 Noida: Triveni Engineering & Industries Ltd. ('Triveni'), the second largest integrated sugar producer in the country; a market leader of engineered-to-order high speed gears & gearboxes and a leading player in water and wastewater management business, today announced its financial results for the second quarter and half year ended Sep 30, 2021 (Q2/H1 FY 22). The Company has prepared the financial results based on the Indian Accounting Standards (Ind AS) and as in the past, has been publishing and analyzing results on a consolidated basis.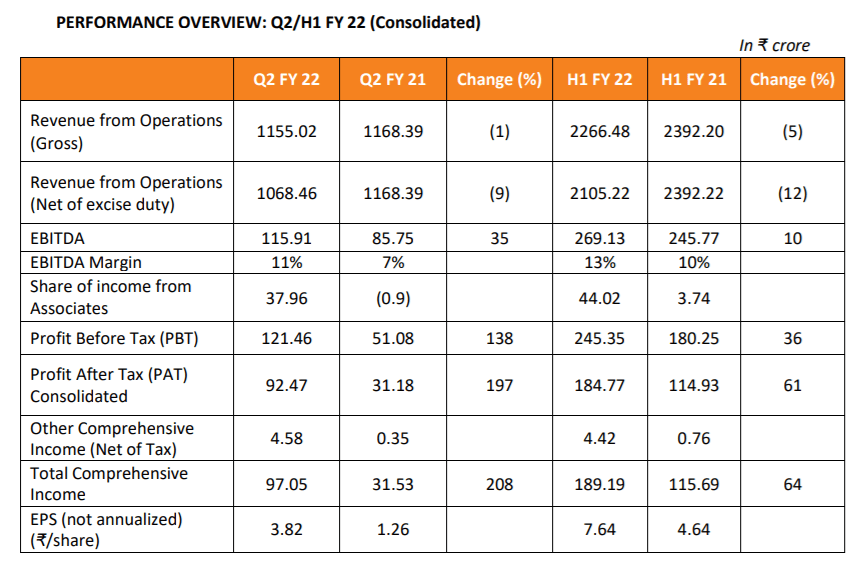 Decline in net turnover by 9% in the current quarter and 12% in the current half year is mainly due to lower sugar dispatches by 21% and 24% respectively Alcohol and Power Transmission Business have achieved higher turnover in the current half year / quarter over the corresponding period of last year.
• Operating profit in Q2FY 22 is higher by 35% at ₹ 115.91 crore and H1 FY 22 by 10% at ₹ 269.13 crore.
• Share of profit from the associate company is higher due to accrual of significant exceptional income.
• The total debt on a standalone basis as on Sep 30, 2021 is ₹ 515.54 crore, lower by 32% as against ₹ 761.43 crore as on Sep 30, 2020. It comprises term loans of ₹ 364.35 crore, almost all such loans are with interest subvention or at subsidized interest rate. On a consolidated basis, the total debts are at ₹ 581.82 crore, with term loans at ₹ 430.63 crore.
Commenting on the Company's financial performance, Mr. Dhruv M. Sawhney, Chairman and Managing Director, Triveni Engineering & Industries Ltd, said:
"Overall performance of the Company during the half year ended Sept 30, 2021 has been satisfactory. Sugar segment witnessed lower dispatches during Q2 / H1 FY 22 but average realization price has improved in view of firmness of sugar prices since August'21. The distillery segment continued its strong performance driven by higher dispatches and higher realization prices. The performance of the engineering businesses has substantially improved in terms of profitability, despite marginally lower turnover driven by improvement in the power transmission business.
We would expect sugar prices to sustain at the current levels, especially in view of substantial increase in cane price by ₹ 250/tonne in the SS 2021-22. It would be more appropriate on the part of the Government to address long pending increase in Minimum Selling Price (MSP) of sugar at this stage to maintain viability of sugar mills and to preserve their cane price paying capacity. The export programme from northern part of the country needs to be watched as without export subsidy, it is dependent on the price levels in the domestic and international markets. Nevertheless, exports may continue to be viable from Maharashtra and other coastal regions.
The ethanol production programme by sugar mills is expected to accelerate with sugar diversion expected to increase by ~ 62% to 3.4 million tonnes in the SS 2021-22. In view of steep increase in sugar prices, use of grains as feedstock is expected to gain momentum. The Government of India has recently announced modifications with respect to monthly release quota to incentivize diversion of sugar for ethanol production, which will be applied from October 2021 onwards. The key modification is increasing the incentive on sugar sacrificed for producing ethanol from B-heavy molasses/sugarcane juice/sugar syrup/sugar from 50% earlier to 100% from the month of October 2021. We are well on schedule to set up additional distillation capacities. Around 220 KLPD capacity will be operational in the last quarter of FY 22 and another 120 KLPD around Q1 FY 23.
In the engineering business, the turnover is marginally lower by 1%. Power Transmission Business has recovered well post COVID-19 but there has been delay in the normalization of project sites of Water Business. The order intake position is satisfactory under the prevailing challenging conditions, however the same is expected to improve in the second half of the year. The key to growth in engineering business will be overall economic recovery and resumption in industrial activity."