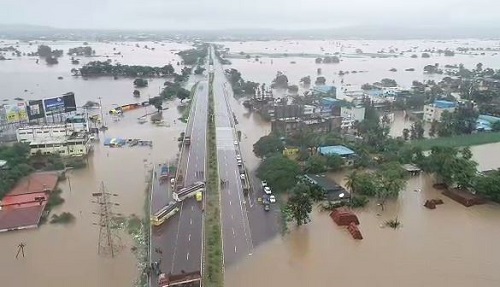 Monsoon rains wreaked havoc in parts of Maharashtra leaving around 50,000 people stranded in Kolhapur, Sangli and parts bordering Maharashtra and Karnataka. Lives of thousands came standstill due to heavy to very heavy rains for the past two days. NDRF teams have been deployed for rescue operations in several districts. Five rescue teams of the Indian Navy were mobilised on 6th August 2019 for Kolhapur and Sangli districts in response to State Administration request for assistance to populace affected by floods. In addition four teams of naval drivers from Goa are also deployed for rescue operations. Five squads of NDRF were also airlifted overnight from Bhubaneshwar, two teams were deployed in Sangli whereas 3 in Kolhapur. Along with White Army, several local teams and organisations like Rotary, Rotaract, JITO, Kolhapur Inlanders have been striving to rescue families, cattle animals around the affected areas, localities have extended their hearts out too for assistance of food, shelter, clothing and medicines.
Monsoon might have been below average but it has outperformed in Madhya Maharashtra that at present is largely rain surplus by 65%. This is something which the region does not see very often.

According to Skymet Weather Services, rains in Kolhapur have broken all records, this season. The city has recorded 475 mm of rains in the first seven days of August. With this, it has not only broken the highest rainfall record in 10 years but all the all-time high rainfall record in August. Prior to this, 338.7 mm was the highest rainfall in the last decade in 2016, while all-time high record stood at 425 mm of rain in August 2006.
The major contribution came on August 5 and 6 when the city recorded 3-digit rainfall to the tune of 105 mm and 128 mm.
The forecast by Skymet Weather exhibits that, Kolhapur is expected to ink some new records as heavy rains are likely to continue over the city for another two days. Thereafter, rains would reduce but moderate rains would continue on August 9. Subsequently, Monsoon rains in Kolhapur would see significant dip with just light showers in offing.
According to weathermen at Skymet Weather, the reason behind some exceptional rains this season could be attributed to the series of Monsoon systems such as low-pressure area travelling through and through Central India and reaching till Maharashtra.
The city which falls in the lee side of the Western Ghats does not record much rains. In fact, it is the least rainiest pocket as compared to other parts in Maharashtra.
July is the rainiest month for Kolhapur with an average rainfall of 280 mm, while August records less rainfall of 209 mm. Rains reduce significantly in September to 125 mm.