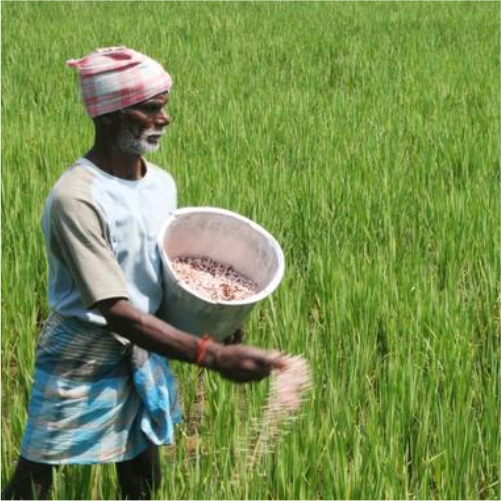 New Delhi: Pesticide use depends on several factors like area under cultivation, type of crop, crop intensity, agro-climatic conditions, soil condition, pest situation etc. which can differ from State to State. Government of India is promoting Integrated Pest Management (IPM) approach through 35 Nos. of Central Integrated Pest Management Centres (CIPMCs) across the country by conducting of Farmers Field Schools (FFSs), 2 days & 5 days Human Resource Development programmes. These Central IPM centres educate the farmers about judicious use of chemical pesticides and recommend the use as per the directions prescribed on the label claim and leaflets.
Consumption of fertilisers depends on several factors like gross cropped area, availability of irrigation, cropping pattern, affordability etc. As against the all India per ha consumption of 133 kg during the year 2018-19, the consumption is comparatively higher in Telengana (245.29 kg/ha), Punjab (224.49 kg/ha) & Haryana (224.46 kg/ha) and on the lower side in Kerala (36.38 kg/ha), Rajasthan (60.753 kg/ha), Odisha (70.59 kg./ha), Jharkhand (59.70 kg/ha), Himachal Pradesh (63.32 kg/ha) etc. In some States like Punjab, Rajasthan, Haryana, Uttar Pradesh, Jharkhand, a deviation from the ideal NPK ratio has been observed which may be attributed to specific local requirement as per the cropping pattern and soil health. However, Government of India is promoting soil test based Integrated Nutrient Management for balanced and judicious use of fertiliser through Soil Health Card Scheme since 2014-15. Soil Health Cards provide crop-wise recommendation on appropriate dosage of fertilisers to be applied.

This information was given in a written reply by the Union Minister of Agriculture and Farmers Welfare Shri Narendra Singh Tomar in Rajya Sabha yesterday.
(Source: PIB)
To Listen to this News click on the play button.