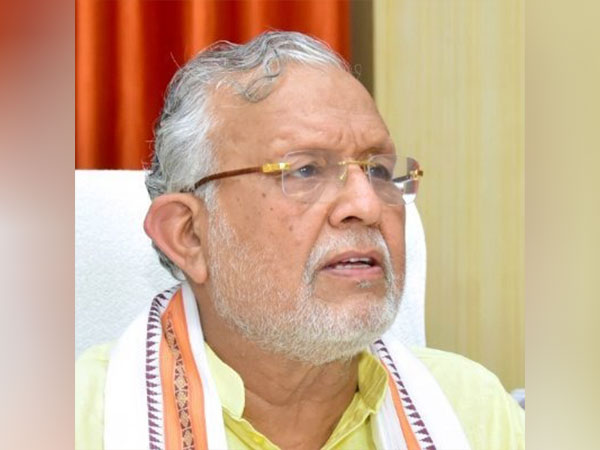 Lucknow (Uttar Pradesh) [India], October 18 (ANI): Uttar Pradesh Finance Minister Suresh Kumar Khanna presented the roadmap for making Uttar Pradesh a one trillion dollar economy. Khanna also discussed the roles and responsibilities of the financial sector and banks to achieve the goal.
A seminar was organized in Lucknow on Wednesday by the Uttar Pradesh Finance and Accounts Service Association and SBI on the possibilities, challenges, and the role of the Finance Department and SBI to achieve the vision of a one trillion dollar economy. During the seminar, the Chief Guest and Uttar Pradesh Minister of Finance and Parliamentary Affairs, Suresh Khanna, stated that the government believes that if officers involved in banking and finance have a helpful attitude, maintain a positive approach, and include quality and technology in their work, there is no reason why Uttar Pradesh cannot achieve this significant goal.
The Finance Minister further said, "Do not delay today's work until tomorrow. We should learn from Japan how they carry out their work with honesty and sincerity. If we do the same, no goal will be too big to achieve. Today, we are advancing with technology. It is the marvel of technology that all government schemes, including the Kisan Samman Nidhi, are being delivered to people with just one click."
He emphasized that achieving a one trillion dollar economy does not mean accumulating one trillion dollars in the treasury. "The direct goal is to develop our capabilities and economy. When the goal is big, there has to be a change in work behaviour", he remarked.
He further mentioned that Chief Minister Yogi has transformed the perception of Uttar Pradesh. "Significant improvements have been made in infrastructure, and organized crime has been significantly reduced. To align with the one trillion dollar goal, we must create a strategic plan. Transparent policies, industrial policies, financing arrangements, and timely decision-making are essential for building a one trillion dollar economy", he stated.
The Finance Minister mentioned that the government's first priority is to increase purchasing power. When purchasing power increases, there is a higher demand for services in the market. Accordingly, there is a need to increase production.
He said, "The more we focus on infrastructure, the more employment is created. This is an economic cycle that helps strengthen the economy. He also stated that advancing the transportation and communication systems will contribute to development.
Uttar Pradesh Chief Minister earlier stated that in a bid to contribute to Prime Minister Narendra Modi's aim to make India a USD 5 trillion economy, the Uttar Pradesh government has targetted to become a USD 1 trillion dollar economy. Adityanath called upon the industrialists, entrepreneurs, and investors to come to the state for investment. (ANI)