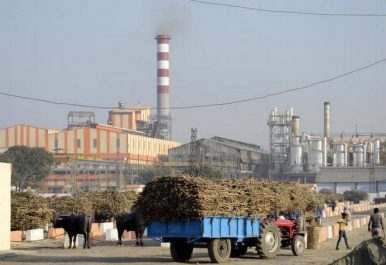 Lucknow: Inspite of various attempts by Uttar Pradesh government, sugar mills are unable to clear sugarcane dues, and therefore now it seems the government will put pressure on them to clear the arrears.
Uttar Pradesh government has warned strict action against the sugar mills in the state as they owe arrears worth Rs 2000 crore from 2018-19 season. More than 85 per cent mills are owned by the private mills, and the maximum pending dues are from these mills. The big players include Bajaj Hindusthan, Modi and Simbhaoli groups.

According to reports,  private mills owe Rs 1700 crore to the farmers, and cooperative sector mills owe Rs 300 crore.
UP sugarcane development and sugar industries minister Suresh Rana said, "We will convene a meeting with the management of the defaulting mills, especially Bajaj Hindusthan, Modi and Simbhaoli groups and ask them to clear their sugarcane dues."
The Uttar Pradesh government had already given instructions for daily monitoring of the "sugarcane price payment" by the department commissioner.
To Listen to this News click on the play button.