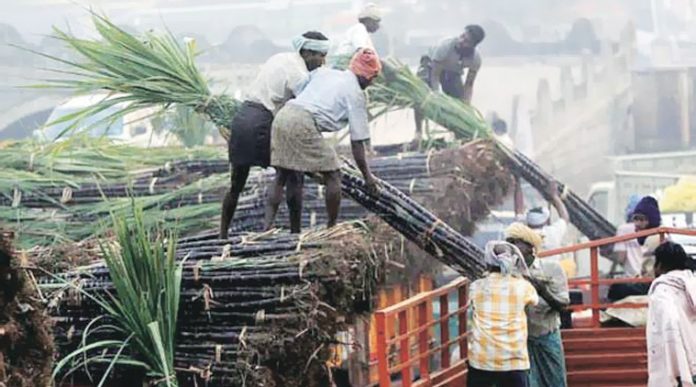 Talks are on between the Uttar Pradesh sugar industry and state government to find a solution to the problem of over Rs 11,000-crore cane dues for the current season. In a series of meetings with chief minister Yogi Adityanath, chief secretary Anoop Chandra Pandey, cane commissioner Sanjay Bhoosreddy and excise commissioner Kalpana Awasthi, spread over the last two days, both the parties tried to find a workable solution to clear the dues alongwith deliberations on the issue of disposal of the huge sugar stock.
"Apart from these issues, we also discussed the early start of the next season," said a state government official.
During the meetings, the sugar industry, represented by Isma president and joint MD of Dhampur Sugar Mills, Gaurav Goyal, CB Patodia (wholetime chairman of Birla Sugars), Vivek Saraogi (MD of Balrampur Chini Mills), Gautam Dalmia (MD of Dalmia Bharat Sugar), Ajit Shriram (joint MD of DCM Shriram group) and Aditya Jhunjhunwala of KM Sugars, stressed on their long-pending demand of the state government helping the industry by paying Rs 40/tonne cash subsidy directly to farmers, which would be adjusted against their cane dues.
According to those present at the meetings, positive signals have emerged from both sides on all the issues discussed, giving rise to speculations of a possible solution soon.
The timing of the meetings is crucial as the new season is round the corner, alongwith the approaching Lok Sabha elections. It may be mentioned that cane dues in Uttar Pradesh is a very volatile issue, especially because more than 40 lakh farmers are associated with cane farming in the state.
In addition to that, the government is looking at an early start of the next sugar season. The industry is, however, adamant on not starting operations until some positive indications are given to it from the government regarding financial help in clearing the huge dues.
Looking at the huge cane crop in the coming season, the government has already directed mills to start early. As per ISMA estimates, Uttar Pradesh is likely to produce a bumper 135 lakh tonne of sugar, which is around 11% more than last year's production.