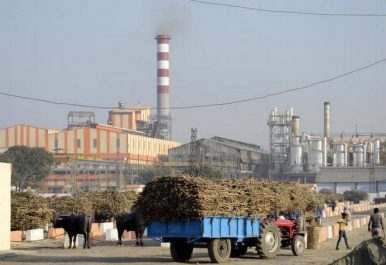 Lucknow, Sep 25 (PTI) The Uttar Pradesh government Tuesday decided to provide soft loans worth Rs 4,000 crore to sugar mills through the nationalised and other banks.
A decision in this regard was taken in the Cabinet meeting presided over by Chief Minister Yogi Adityanath.
Briefing newspersons after the meeting, the chief minister said, "In order to immediately clear pending farmers' dues of the crushing season 2016-17 and 2017-18 to cane growers, the Cabinet approved Rs 4,000 crore soft loans to private sugar mills through nationalised and other banks," Adityanath said.
Budgetary provisions of Rs 4,000 crore for soft loans were made in the supplementary budget for payment of cane dues.
This amount will be extended to mills though the banks which they will provide to farmers directly in their bank accounts through RTGS and NEFT, he said.
Briefing about the other decisions in the Cabinet, state government spokesman Siddhartnath Singh said that a bridge on Ganga in Kunda assembly segment of Pratapgarh at a cost of Rs 248.9 crore was also approved.
This bridge, giving an alternative connectivity between Allahabad and Kaushambhi districts, will come up in three years' time, the minister said.