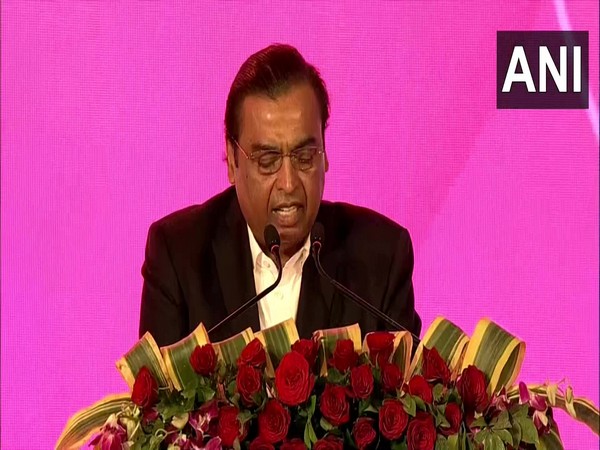 Lucknow (Uttar Pradesh) [India], February 10 (ANI) Reliance Industries chairman and managing director Mukesh Ambani said his group plans to invest an additional Rs 75,000 crores in the next four years across Uttar Pradesh.
These investments would spread across its telecom, retail, and renewable businesses, having the potential to create an additional over one lakh jobs in the state.
In the past few years, the group, Ambani said, invested about Rs 50,000 in Uttar Pradesh.

Ambani made the remarks while speaking at the inaugural ceremony of the ongoing three-day UP Global Investors Summit 2023 in Lucknow on Friday, where prime minister Narendra Modi is the chief guest.
It is the flagship investment summit of the Government of Uttar Pradesh. The mega event is aimed to bring together policymakers, industry leaders, academia, think tanks and leaders from across the world to collectively explore business opportunities and forge partnerships.
Also, he added Jio will complete its roll-out of 5G to cover every town and village in Uttar Pradesh by December of 2023.
In his initial remarks, he mentioned regional imbalances are fast disappearing in India while the divide between urban and rural India is also closing.
"Thanks to your (prime minister's) far-sightedness, regional imbalances are fast disappearing. Uttar Pradesh is a shining example of this. The divide between urban India and rural Bharat is also closing," Ambani said.
"I am confident that India is on a very strong growth path," Ambani said, citing four major reasons for his conviction.
They are technology adoption, the largest youth population, disappearing regional imbalances, and unprecedented hope among people.
"Indians are embracing technology at a rate unseen even in the developed world," he said, giving reference to the rollout of high-speed 5G services in India.
Talking about India's youth, he said they are brimming with entrepreneurial energy and passion and their innovations and ideas will take the world by storm.
"Nobody in the world can question the fundamentals of the Indian economy. They are robust. And now is the time for all our enterprises to step up on the accelerator," he added.
He also mentioned the recently presented Union Budget.
"This year's budget has indeed led the foundation for India's emergence as a developed nation. It stands out for its highest-ever resource allocation for building the foundation for the country's growth in terms of capital expenditure. This is bound to not only boost economic growth but also achieve greater social welfare," he said.
For the record, the Budget document proposed to increase capital expenditure spending by 33 per cent to Rs 10 lakh crore, focusing on augmenting core infrastructure assets, including roads, railways, airports and logistics. The Budgeted spending would be 3.3 per cent of GDP. (ANI)