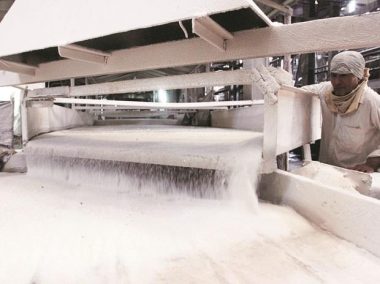 Sugarcane crushing in the country's top producing state, Uttar Pradesh, is slated to begin from Saturday, October 27, in the shadow of farmers' outstanding of Rs 78 billion for the previous 2017-18 season.
The Modi Group's sugar mill in Meerut has issued the indent to farmers for the supply of cane and it is slated to start crushing from Saturday, making it the first mill in UP to start operations in the current season.

UP Cane Commissioner Sanjay Bhoosreddy said that by the end of this month, about 30 mills in the western and central regions of the state would become operational, including the regions of Meerut, Saharanpur and Moradabad.
"We are hopeful that by November 10, most of the mills in UP would be operational," he said. There are 119 mills in UP, of which 94 are privately owned and 24 are run by cooperatives. Late rains and hailstorms in some western UP districts, coupled with higher night temperatures, have delayed maturity of the sugarcane crop. "In the last 4-5 days, the night temperatures have started to fall below 20 degree Celsius and there is marked difference in day and night temperatures, which would hasten the process of maturity and result in speedier crushing operations and higher recovery as well," he said.
Earlier, Chief Minister Yogi Adityanath had directed the sugarcane department to ensure that mills started crushing by October end so that farmers could empty their fields on time for the sowing of wheat.
This year, UP cane acreage is estimated at 2.6 million hectares (MH), up 18 per cent from about 2.2 MH during 2017-18 — when UP had clocked sugar production of over 12 million tonnes (mt), with farmers' payables touching Rs 354 billion.
With higher acreage this season, the farmers' payouts are likely to top last year's record levels and add to the woes in the backdrop of mute sugar prices and market glut, both locally and globally.
The state's mills had been asked to settle their arrears by November. The state had earlier allocated Rs 55 billion to bailout the sugar sector from the payments crisis. This included Rs 40 billion to be offered to private sugar mills as soft loan. However, the soft loan would be offered to those private mills whose payment ratio was higher than 30 per cent during the last crushing season. The soft loan would be offered for a period of five years and attract interest payment of five per cent. The defaulters would have to cough up interest payment at the rate of 12 per cent.
The mills have time till October 31 to apply for the soft loan with banks, who have to process and sanction the same by November 10. Adityanath has conceded that the domestic sugar sector was passing through challenging times owing to the crash in international sugar prices.