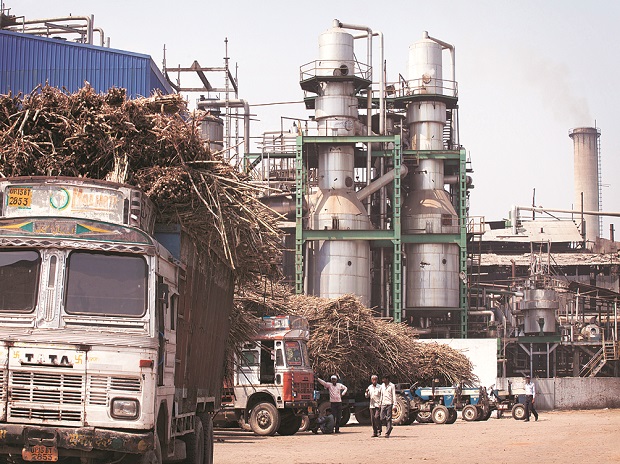 The Uttar Pradesh Sugar Mills Association (UPSMA) wrote a letter to the chief minister on Monday, reiterating an earlier plea for a financial rescue package.
This comes four days after the promoters of top mills in the state met the CM with a plea for a bailout package to settle the Rs 110 billion in payments backlog to sugarcane farmers. Their letter pleads for urgency, with the next cane crushing season approaching.
In the letter Association president, C B Patodia says "token assistance" from the state would not solve the problem. Instead, doing so "would rather complicate the already complex issue for the next season as well".
The Association has reiterated its request for Rs 40 a quintal incentive on cane crushed by private sector mills during the recently concluded 2017-18 crushing season. The millers say their paying capacity was impaired due to less return from the sale of sugar and byproducts, against a comparatively higher cost of production. As a result, banks are not giving them loans, given the huge payment liabilities and unsold stock. So, they are unable to do the necessary repair works in preparation for the next season.
Last week, the state government had directed millers to start crushing operations (the next season officially begins October 1) in a phase-wise manner, with Western UP units taking the lead from October 15, so that cane farmers could empty their fields for the rabi (winter) crop, especially sowing of wheat.
A meeting between the government's chief secretary and sugar industry representatives was earlier reported as likely on Monday but did not happen.
The Association also blames the sugar sale quota system introduced by the Centre for large unsold inventories with UP mills.

This stock, they say would not be exhausted till end-February 2019 but the new crushing season would have added new stock by then, their letter says.
According to sources, the government could announce some package for the industry in a day or two. UP's estimated sugar production in a season is Rs 400 billion (including sugar and byproducts), apart from the byproducts. In an election, year, the government would not like to antagonise the four million farmer households engaged in cane farming. UP is the country's largest sugarcane and sugar producer.
Recently, the Reserve Bank of India had told banks to put the sugar industry on a 'Caution List'. This signifies a negative outlook, with a build-up of non-performing assets, apart from other issues.
On Thursday, the promoters and senior officials of Balrampur Chini, Dalmia Bharat, Birla and DCM Shriram, among others, had met Chief Minister Yogi Adityanath and pleaded for a financial rescue package.
The country's total of sugarcane payment arrears to growers is about Rs 170 billion, of which UP's mills account for Rs 110 billion. And, another bumper cane crop, and in sugar production, is predicted for the coming season, stoking an existing glut. The export market is also presently non-existent.