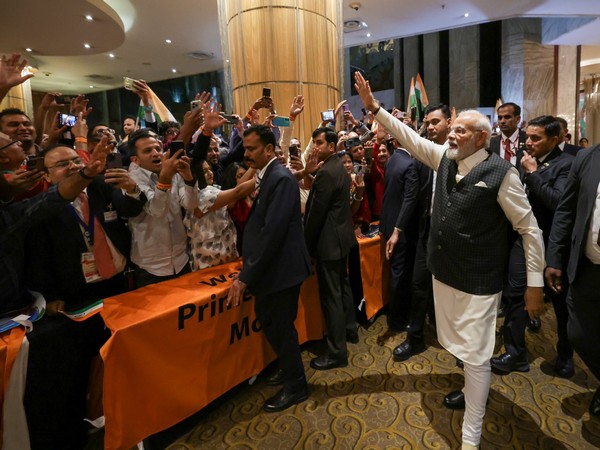 Washington [US], August 30 (ANI): A Washington-based think tank survey has found that views about India are generally positive across 23 countries.
India, is at the centre of international attention, as next week global leaders will gather in New Delhi to attend the G20 Summit.
A new Pew Research Center survey found that a median of 46 per cent of adults have a good opinion of India, while a median of 34 per cent have a negative opinion of India. Comparatively, opinions on Prime Minister Narendra Modi, which were gathered in a subset of 12 countries, are mixed with 37 per cent of people on average saying they have faith in PM Modi.
Pew Research Center is a nonpartisan fact tank that informs the public about the issues, attitudes and trends shaping the world.
The most recent survey, of 30,861 people in 24 countries conducted from February 20 to May 22, 2023, investigates Indians' perceptions of other nations as well as perceptions of India and its political leaders both inside and outside of India. Due to the difficulties in conducting in-person interviews during the pandemic, the Pew Research Center has not surveyed eight middle-income countries since 2019, prior to the COVID-19 epidemic.
Indians are more likely to think that India is becoming more powerful. In comparison to a median of 28 per cent across 19 nations in 2022, about seven out of ten Indians think their nation has recently been more powerful. Only 19 per cent of Indians share this opinion, despite respondents in those 19 countries being most likely to believe that India's influence hasn't altered significantly in recent years (48 per cent median). Indians are just as likely as people in other nations to believe that India's influence has weakened recently (13 per cent v/s a median of 13 per cent across 19 countries).
Indians as a whole (79 per cent) had a favourable opinion of PM Modi, with 55 per cent of them having a very favourable opinion. In contrast, a median of 37 per cent in 12 nations—the majority of which are middle-income—report having faith in PM Modi to make the correct decisions in terms of foreign policy. Kenyans are especially assured, with 60 per cent stating they believe PM Modi would do the right thing in regard to international affairs.
Indians stand out for their favourable views of Russia. While only a median of 14 per cent of people in 22 nations have a favourable opinion of Russia, the majority of Indians—57 per cent see Russia favourably. Of all the public surveyed, Indians are the ones who are most likely to believe that Russian President Vladimir Putin will do the right thing in regard to international affairs. Similar to how India (65 per cent) views the United States more highly than many other nations surveyed by the Pew Research Center.
In general, younger persons are more inclined to express an opinion about India. A quarter or more of Indians have no opinion on Mallikarjun Kharge and Adhir Ranjan Chowdhury, the two leaders of the Indian National Congress (INC), according to a Pew Research Center survey. (ANI)