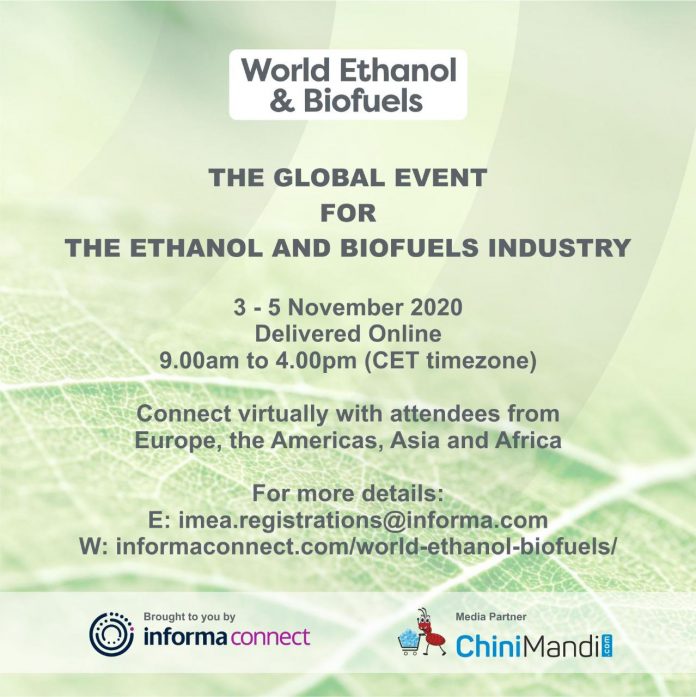 Following the global developments with the pandemic, World Ethanol & Biofuels 2020 will be online only. Knowing that the 3 main things the global ethanol/biofuels community want to do is to gain insights, network and do business we have developed a virtual platform that does all this and more. With one sign on, you will be able to access all of the presentations, browse the exhibitor hall and network directly with attendees and sponsors.
Join us at the #1 global ethanol and biofuels event this November to connect with ethanol and biofuels stakeholders from five continents, and receive unrivalled insights into biofuel mandates, global trade dynamics, innovations in cellulosic/advanced biofuels and sustainable aviation fuel, new production technologies and much more.

You can save 20% with promo code FKB2325C
To BOOK NOW click here 
To VIEW AGENDA click here 
How the virtual platform works:
•Live content will be accessed from the main agenda, where you can also submit questions to the speakers as you would at a face to face event.
•A selection of live content will be made on-demand at a later date. To ensure you see all of the live presentations it is recommended to join them at the scheduled start time.
•Within our virtual exhibition hall you will be able to view sponsor booths which will contain information, video, downloadable documents and links to resources about their products and services. You can also ask exhibitors questions or visit their virtual meeting space for an in-depth discussion.
•Book one to one meetings with other attendees by viewing our attendee list and requesting an appointment with the people you would like to meet. Once accepted your meeting will take place within a virtual room in the event platform.
Key topics for 2020:
International developments: Hear from regional market experts about the latest developments with the RFS in the US, the consequences of RenovaBio implementation in Brazil and the prospects for increased ethanol exports to China.
Impacts of COVID-19: Debate how low oil-prices, reduced transport fuel consumption and the switch to sanitizer and disinfectant output is affecting the health of ethanol production around the world.
The European Green Deal: How important will the bioeconomy be to the EU's ambitious strategy to reach carbon-neutrality by 2050? Learn what the strategy will mean for the biofuels industry and ethanol consumption over the coming decades.
Scaling-up cellulosic/advanced biofuels: Find out how the current policy outlook will influence the uptake of cellulosic/advanced vs crop-based biofuels, and get the latest insights into commercialization, second-generation technology, market penetration and more.
Sustainable aviation fuels and shipping: The potential for biofuels uptake in the transportation sectors that are the most difficult to decarbonise is considerable. Hear from producers and purchasers about the progress being to reduce costs and stimulate uptake of SAF, renewable diesel and drop-in fuels.
For more details write to roxanna.kashfi@informa.com / shivani@chinimandi.com
To Listen to this News click on the play button.