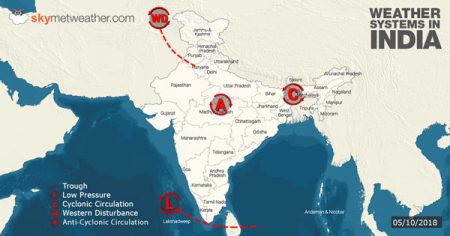 Weather Systems across the Country
A Western Disturbance continues to persist over North Pakistan and adjoining areas. A trough is running from this system to Haryana across Central Pakistan and South Punjab.

A Cyclonic Circulation is seen in lower levels over North Bangladesh and adjoining West Bengal.
A Low- pressure is over Southeast Arabian Sea. A trough is extending from this system till Southwest Bay of Bengal.
An Anti-cyclone is over Madhya Pradesh.
Weather Activity in last 24 hours
In the last 24 hours, moderate rains with heavy to very heavy spells occurred over Kerala and Tamil Nadu.
Scattered light to moderate rains occurred over Andaman and Nicobar Islands, South interior Karnataka, South Madhya Maharashtra and North Coastal Andhra Pradesh.
Isolated rains occurred over North Madhya Maharashtra, Gujarat, Madhya Pradesh, Bihar, Jharkhand, Central Uttar Pradesh, North Rajasthan, Jammu and Kashmir, Sikkim and Assam.
Weather of West Rajasthan and parts of Kutch remained very hot with maximums settling around 40 degree- Celsius or more.
Weather Forecast for tomorrow
In the next 24 hours, light to moderate rains with few heavy spells will occur over Tamil Nadu, Kerala, South Karnataka and Lakshadweep.
Scattered light to moderate rains are likely to occur over Rayalaseema, Coastal Andhra Pradesh, South Madhya Maharashtra, Andaman and Nicobar Islands.
Isolated rains will occur over Telangana, Sub Himalayan West Bengal and Sikkim, Jammu and Kashmir and Himachal Pradesh.
Isolated thunder activity is possible over some parts of North Rajasthan and parts of Haryana.
No relief from the ongoing weather conditions can be seen over West Rajasthan and parts of Kutch. Places like Uttar Pradesh, Haryana, Madhya Pradesh and rest Gujarat will experience maximums in higher 30s.