Czapp Opinion Focus
2021 is a torrid year for the container market. It's difficult to secure containers in some regions.This is putting everyone in the commodity business under a lot of pressure.
Stretched Supply Chains
A major theme in 2021 has been the huge logistical problems around the world. The newswires have been full of stories about container shortages and stretched supply chains as ports grapple with COVID restrictions and huge demand for goods.


But what does this all mean in the real world?
Clearly, when the Ever Given container ship become wedged in the Suez Canal, it was easy to see how this could cause disruption to supply chains.
How are the other problems in the global trade network being felt?
As a supply chain business, we felt we were uniquely placed to give some 'on the ground' information on what's happening.
What Does 'Stretched' Mean in the Real World?
Shipping lines and freight forwarders are quoting rates but struggling to confirm bookings. In one instance this summer, we requested rates for 68 routes globally to meet a long-term contract and only managed to agree one. Within one week, that rate was then withdrawn by the line.
This is due to a shortage of containers (at least, the containers need repositioning as they're not in the right places). Shipping lines are desperately trying to recycle empty containers back to East Asia, particularly China.
To help this process, shipping lines are cutting less popular routes and ports in favour of dominant routes and ports. In the Americas, the Czarnikow team have been faced with repeated rollover notifications.
In plain English, this means our container sailings have been delayed because vessels aren't operating the route or have no capacity to take the containers. For example, there's no longer a direct route from Guatemala to West Coast North America; this has been replaced by a transshipment at Lazaro Cardenas in Mexico. But the connecting Mexico to USA shipment only happens every 15 days, massively slowing the flow of goods.
As a result, the number of voyages from Guatemala to the USA has dropped from around 4-5 a week (pre-pandemic) to 1-2 a week (currently). By some accounts, freight costs from Central America to the USA have increased by more than 75% since the start of 2021.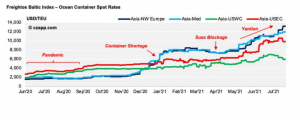 Elsewhere, one major freight liner placed a 'Stop Bookings' order on all routes from East Africa earlier this year. Other reports suggested that rates to West Africa and North Africa were also elevated through the middle of this year. For example, there was no availability for September shipments from the region at the start of August.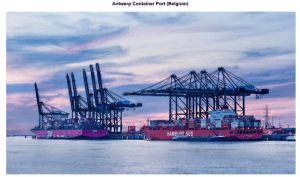 Europe has faced a little less disruption, but supply chain management has still been tricky. Containers have been hard to source, and arrival times have frequently been 1-2 weeks later than advised. Rates have risen by 10-30% for most containerized sugar inflows to Europe.

The Mediterranean-Panama Canal-West Coast Centra America-West Coast USA route was also cancelled on August 10th, with those vessels diverted to Asia.
Once containers are back in China, the problems continue.The spread of the Delta COVID variant means Chinese port operations have been disrupted through the middle of 2021. The largest container terminal (Yantian) closed in the face of an outbreak in June. More recently, the same has happened at Ningbo-Zhoushan, cutting this port's container capacity by a quarter.
How Can We Resolve the Problems?
In response, shipping lines have been ordering more containers. One major shipping firm ordered 300,000 new containers in the middle of 2021 but doesn't expect to receive the full total until the middle of 2022. This is because almost all the lines are trying to order new containers and there isn't enough capacity to meet the new demand.
This suggests the current disruption could last for a while yet. In the meantime, the whole team at Czarnikow will do what it takes to ensure our customers experience minimal disruption.
For more articles, insight and price information on all things related related to food and beverages visit Czapp.
To Register for a free account on Czapp click here