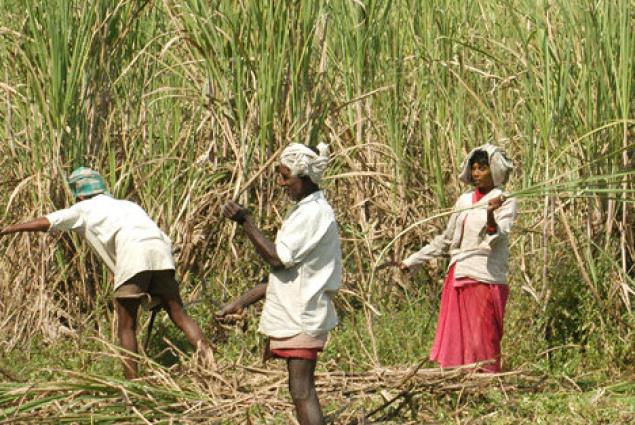 Image Credits: Business Line
Susheela tears up at the mention of her husband Yogesh, who committed suicide on February 28.
The 50-year-old farmer of Rampura village in Karnataka's Mandya district had taken Rs 3 lakh in loans from banks and money lenders, but inadequate rains forced him to leave his one-acre land fallow, resulting in a debt.
The farm loan waiver offered by the state government had a provision to write-off only Rs 50,000, and that too, only if taken from state cooperative banks.
When Yogesh consumed poison on his farm on the fateful night, Susheela had no inkling of him taking the extreme step.
Mandya is one of the richest agricultural districts in the state, but three years of inadequate rainfall, a fractious fight with neighbouring state, Tamil Nadu, for limited Cauvery river water, ever-increasing fragmentation of agricultural lands, high input costs, low procurement prices for sugarcane, lack of prompt payment of dues from sugar factories and farmers' inability to move away from water-intensive sugarcane crop all have contributed in breaking their backs.
The state government's decision last June to waive Rs 8,165 crore worth of farm loans taken from cooperative banks significantly did not include public sector nationalised banks and limited the amount to Rs 50,000.
However, in Yogesh's case, like in many others, institutional loans formed a fraction of their debts, as most had continued the practice of accessing credit from private money lenders.
As a result of this, and the failure of crops, around 200 farmers committed suicide in Mandya in 2015 and 2016, the highest among districts in the state according to state crime records bureau.
Locals say another 70 have joined this list in 2017, and it was lower only because of copious rains.
In the case of 60-year-old Chikkanna, the sugarcane crop on his half-acre plot in Uppara Doddi village had failed.
"I was sitting at a nearby tea stall, when my daughter informed me that he had hung himself from a tree in our backyard," recounts his 40-year-old son, Chikkamadhu.
Chikkanna had loans worth Rs 3 lakh, of which Rs 1 lakh was taken from a public sector bank and the rest from private money lenders.
All the families said the government's decision was futile. "Our crops are failing. The money lenders go around the village announcing that we are defaulters, to insult us. Living in the village under such circumstances becomes impossible," Chikkamadhu said.
The state government's loan waiver had triggered a slug fest between the Congress, Bharatiya Janata Party and the Janata Dal (Secular), with the government insisting that loans taken from public sector banks should be waived by the central government.
The BJP had insisted that all waivers had to be borne by the state government, and the JD(S) blamed both parties for the situation, with its chief ministerial candidate HD Kumaraswamy promising a 'complete' loan waiver if his party emerged victorious in the polls.
T Yeshwanth of the Karnataka Prantha Raitha Sangha said this dispute did little good for farmers. "The three political parties have been unable in the past to address agrarian distress and continue to be oblivious to the phenomenon of private loans, which continue to form a majority of debts because of their easy availability."
Maddur is at the tail-end of Mandya district, through which the Cauvery flows. While the Supreme Court's verdict increasing Karnataka's share of the water was welcomed, Yeshwanth said the problem in this region, which was the sugar belt of the state till recently, was the inefficient distribution of water.
"By the time the water reaches this part, there is little left because it is used by people along the river upstream. So, while on paper there is an increase in water allocation, without better water management, this might have little impact on the ground."
In all, around 4,300 farmers committed suicide in the state between 2013 and 2016, according to the state crime records bureau, a claim disputed by the agriculture department.
According to a senior official of the agriculture department, who spoke on condition of anonymity, over this period, there were 2,107 genuine cases of suicide.
With about three weeks to go for the May 12 assembly elections, farmers in Mandya district, which accounts for seven of the 224 seats in the state, said there was little choice between the three parties.
Chikkamadhu said this was clear if one looked at how the parties were busy blaming each other, paying little attention to the issues they faced. "Are they even interested in listening to us?" he asks.