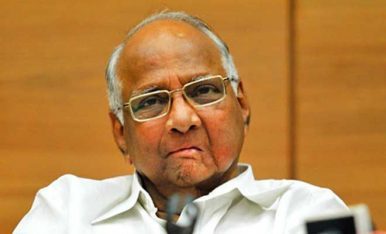 To Listen to this News click on the button below the image
Kolhapur: Prime Minister Narendra Modi was taking political revenge from different Opposition leaders and their close persons, who were taking stand against him, by raiding their residents, offices through the Income Tax office, president of Nationalist Congress Party (NCP) Sharad Pawar alleged on Wednesday.

He said on Wednesday in Akluj, PM Modi criticised him, saying "Pawar is engaged in resolving issues related with sugar lobby with using power. He (Mr Pawar) questioned, is that wrong to fulfill issues relating to the sugar industry?
He said he was not the chairman of any sugar factory, but working for the farmers through an institution, which cares how to produce good sugar.
Addressing an election rally at Gandhi Maidan here for Kolhapur NCP candidate Dhananjay Mahadik, Pawar said that Modi, who has disliked Opposition, especially those who were taking a stand against him and ordering the IT department to conduct raid on these leaders and their close persons' residences and offices in states like Andhra Pradesh, Karnataka, Tamil Nadu and trying to defame them politically.
But, people of this country would not bear such revenge politics and defeat Mr Modi in this election, he asserted.
Cane arrears in Maharashtra have remained a key political issue in Maharashtra and may dominate the electoral discourse in the Lok Sabha polls as sugarcane farmers vote is very decisive