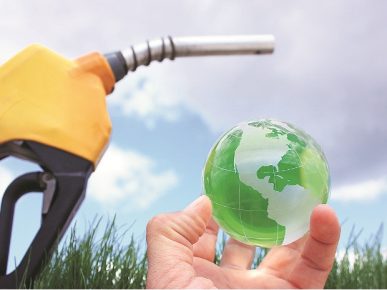 In a boost to its green energy roadmap, the Yogi Adityanath government has cleared six biofuel investment proposals worth almost Rs 17 billion.
These private projects are proposed to be set up in 5 districts, including Sitapur, Hapur, Meerut, Bareilly and Muzaffarnagar.

These projects include a mega biofuel plant to be developed by SunLight Fuels spanning almost 90 acres in Sitapur and costing Rs 15.5 billion. The company would use bagasse, a sugarcane byproduct extracted during sugar production process, to generate biofuel.
According to sources, the company has tied up with the local Birla Group operated sugar mill in Hargaon, Sitapur for getting bagasse supply for biofuel production. The Hargaon mill is one of the largest sugar mills in UP with about 10,000 tonnes sugarcane crushed per day (TCD) capacity.
The proposed biofuel plant is likely to utilise about 500 tonnes of bagasse per day to produce 1,75,000 litres of drop in fuel, which does not need adaptation of the engine or fuel system and could simply be mixed with other conventional fossil fuel for combustion.
The biofuel plant would be established under technical collaboration with a Netherlands based company, sources added.
A high-level committee headed by the state chief secretary had recently approved the six biofuel projects. The five other projects entail investment of more than Rs 200 million each and are proposed to utilise farm waste, press mud (sugarcane byproduct) and other agro waste to produce biofuel, bio CNG and bio fertiliser. Each of these units is expected to produce roughly 5,000 kg of bio CNG a day.
The Adityanath government had earlier claimed to have netted private investment proposals worth over Rs 728 billion in the green energy sector. The green energy sector had accounted for 15% of the composite Rs 4.68 trillion worth of Memorandum of Understanding (MoUs) signed during the two-day UP Investors Summit 2018 on 21-22 February.
Interestingly, the green energy sector investment proposals worth Rs 728 billion were almost 10 times compared to the conventional energy sector, which managed only 76 billion.
Besides, the state has laid out the red carpet for the private sector in the bio energy and biofuel segment, especially ethanol production. In the backdrop of rising sugarcane acreage and production, the state is encouraging the private companies to set up plants producing ethanol directly from sugarcane juice and bypassing sugar owing to the continuing glut in the sugar market.
The global emphasis on green energy is stoking UP to boost renewable energy profile, both in electricity and biofuels. According to estimates, the state has ready potential of 28,000 megawatt (Mw) of green energy, including solar, wind, small hydro power, and bio energy (bio mass, bagasse cogeneration, waste to energy).