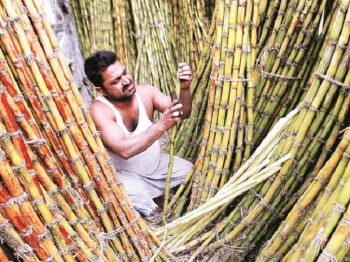 Bracing up for a challenging sugarcane crushing season ahead, the Uttar Pradesh government has decided to invest Rs 1.56 billion to revive six distilleries for producing ethanol and organic fertiliser.
These distilleries owned by the UP Co-operative Sugar Mills Federation had been temporarily shut following the Central Pollution Control Board (CPCB) order over non-compliance of environmental norms.

However, Chief Minister Yogi Adityanath had directed the state sugarcane department to take steps to revive these units. The government will infuse Rs 1.56 billion for setting up of zero-liquid discharge bio-compost plants in these six distilleries for producing ethanol and organic manure without harming the environment. The manure would be supplied to farmers, which would also check the consumption of chemical fertilisers in their vicinity.
According to sources, Adityanath would soon lay the foundation of the projects related to these plans located in Saharanpur, Bulandshahar, Mau, Pilibhit, Farrukhabad and Bahraich districts. The units are likely to be completed before the start of the coming crushing season in October-November 2018.
While there are 24 functional cooperative sugar mills in UP, there were only seven distilleries integrated with these plants, of which six were closed down after the CPCB order.
The six distilleries are projected to process 0.28 million tonnes (MT) of molasses (a sugar byproduct) annually to produce ethanol and organic manure, helping the federation earn almost Rs 3 billion in revenues. Since the Centre is looking at promoting green energy resources and mixing ethanol with fossil fuels, there is a projected big market for ethanol producers.
After coming to power, the Adityanath dispensation has been trying to ramp up the capacity in the government sector by reviving defunct sugar mills, promoting khandsari (unrefined sugar) and gur (jaggery) units, developing integrated sugar complexes etc for giving a viable alternative to farmers to increase their income.
Currently, the private sector dominates the UP sugar sector with total 94 mills of the total 119 units functional. Recently, the private sector mills had reiterated their unwillingness to function in the coming 2018-19 crushing season, until the issue of sugarcane arrears of more than Rs 100 billion was settled.
They had written to the government about non-participation in the cane reservation meetings, beginning from tomorrow. These meetings are conducted to reserve sugarcane area to respective mills depending upon their capacity, demand, performance in the previous crushing season, payments ratio etc. UP Sugar Mills Association (UPSMA) had referred to the precarious financial position of private millers due to arrears pertaining to the previous 2017-18 crushing season even as the next season was fast approaching.
Recently, the Adityanath government had allocated Rs 40 billion in UP supplementary budget to offer as soft loans to private sector mills for settling their arrears. However, the mills have claimed the proposal was unviable in the present circumstances.