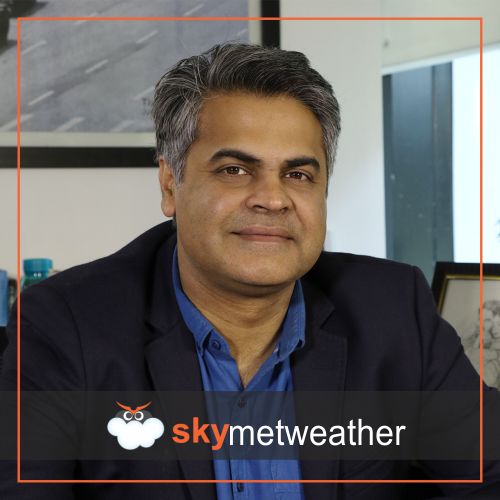 ChiniMandi, New Delhi: As major states of the country have been eagerly awaiting for the arrival of monsoon, which waters over half of the Indian farmland, most regions around the country are speculating deficit rainfall this year.
The earlier trends of sowing have continued to leave most regions dry which does not augur well for farmers, approximately 60 percent of them are dependent on rain to harvest their forthcoming crops. The reports predicting deficit in rainfall this year would add more worries to the farmers across the nation.

In a conversation with ChiniMandi.com, Mr. Jatin Singh the Founder & Managing Director of India's largest private sector weather forecasting, monitoring & agriculture risk Solutions Company Skymet Weather Services Pvt. Ltd which also experts in measuring, predicting & limiting climate risk shared his views on the monsoon conditions of 2019.
He shared, "Skymet expects the upcoming Monsoon to be "below normal" to the tune of 93% (with an error margin of +/-5%) of the long period average (LPA) of 887 mm for the four-month period from June to September. The Pacific Ocean has become strongly warmer than average. The model projections call for 80% chance of El Nino during March-May, dropping to 60% for June to August. This means, it is going to be a devolving El Nino year, though retaining threshold value all through the season. Thus, Monsoon 2019 is likely to be below normal. The onset month of June is going to be sluggish, and deficit rains are likely to spill into July. Second half of the season would see better rainfall wherein August is expected to be a shade better than September, and both the months would manage to see normal rains.
El Nino also impacts distribution of rainfall. El Nino conditions mostly coincide with a period of weak Monsoon and rising temperatures and thus, the probability of drought occurrence surges during El Niño events disturbing crop production and water supply. Skymet expects that East India along with major portion of Central India would be at a higher risk of being rain deficient, especially during the first half of the season. While deficient rains are expected over Bihar, Jharkhand, West Bengal along with Central parts of the country predominantly Vidarbha, Marathwada, southern parts of Madhya Pradesh and some parts of Gujarat.
Odisha, Chhattisgarh and Coastal Andhra Pradesh are most likely to see normal rains throughout the season.
With below normal Monsoons, the possibility of deficient and largely deficient rains is more than 40% in 66% districts of the country. The report offers an in-depth analysis of the impact of predicted Monsoon on the major Kharif crops and the anticipated changes that could possibly occur on the production side. About half of the country's food grain production comes from the Kharif output which stands around 140 million tons."
Speaking about sugarcane he said, I believe it is one of the important cash crops primarily cultivated in the areas where water for irrigation is available. Sugarcane is a leading crop in Western Uttar Pradesh, Western Maharashtra i. e. Kolhapur, Sangli, Satara, Pune, Ahmednagar and Solapur due to availability of ample water from dams which gets filled during Monsoon received on Western Ghats region. In Karnataka sugarcane is cultivated in Alamatti dam region of North Karnataka, Davangere and Mysore region in Central Karnataka.
The miserable performance of Monsoon in 2018 over Maharashtra and Karnataka led to water crisis in most of the cane growing areas. Lower availability of water in big dams hindered new sugarcane planting as well as the Ratoon. Moreover, crisis in cane industry due to price fluctuation resulted in delayed cane payments to farmers in all key growing states.
As per data released by Ministry of Agriculture on June 6' 2019, area sown in sugar season 2019-20 stands at 47.85 lakh hectares as compared to 47.91 lakh hectares sown at the same time last year. The sugarcane cultivation in Maharashtra has declined around 18% to 8 lakh hectares as compared to 9.49 lakh hectares sown last year. Other key producing states such as Uttar Pradesh and Karnataka has registered a growth in acreages by 3% and 24% respectively.
Farmers in sugar belt of Pune, Sangli, Satara, Solapur and Kolhapur have not taken sugarcane crop owing to water scarcity. Sugarcane cultivation in Marathwada will be the most affected and there would be hardly any cane for mills to start the next crushing season. Dams in Marathwada is running out of water and thousands of villages are dependent on water tankers. In addition to above, white grub has also infested a significant area in Ahmednagar, Solapur and few pockets of Marathwada and to a lesser extent in Kolhapur, Sangli, Satara and Pune. Infestation is so severe in few pockets that either farmer has uprooted the crops or the crop has not survived.
If there are less rains in July, then ratoon crop may be used as fodder if this fetches the similar amount of money that sugarcane will fetch at the time of harvesting. So, Sugarcane area may further reduce by few hectares in Maharashtra. Deficient rains will definitely have an adverse impact on the acreages and yields."
Adding to his views on effect to commodities Mr.Jatin Singh added, "Deficient rains will affect almost every commodity. If there are delayed or less rains in June and July, then sowing will be adversely impacted except the crops taken in assured irrigation such as paddy and sugarcane. If there are deficient rains in August and September, when flowering and seed setting takes place then it will adversely impact the flowering and seed setting in almost all crops thus adversely impact the yields."