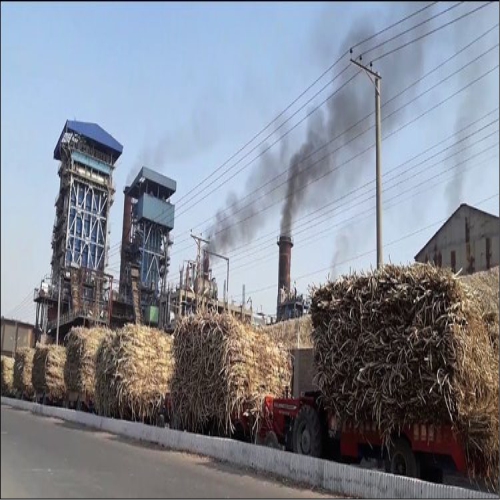 Lucknow : Instructions were given by Hon'ble Chief Minister Of the state Yogi Aditya Nath to make the system of cane purchi issuance transparent and to curb the cane mafia. In this regard the positive decisions taken by the Hon'ble Minister, Sugar Industry & cane Development Shri Suresh Rana in the interest of cane farmers, the Department of Cane Development adopted a new integrated system in the state with the aim of bringing complete transparency in cane supply and purchi Issuance system So that the expected results can be achieved.
Giving information in this regard, Commissioner, Cane & Sugar Shri Sanjay R. Bhoosreddy said, that the visit of Nodal Officers in their allotted Ranges after implementation of ERP System revealed that the transparency and accuracy in purchi issuance through ERP and information available through web portal 'www.caneup.in' and 'e-Ganna' mobile app are proving beneficial for the farmers. In their interaction with the the officers the farmer praised the purchi issuance system. The farmers told that now they do not have to go round the society offices and all the information is accessible to them sitting at home and they get information about the purchi on thier mobile before the time.
The farmers also told to the nodal officers that with the strengthening of the societies and administrative reforms in the purchie issuance system, now the cane farmers are able to devote all their time to their fields and the sugar mills are also now focusing on "Cane Management". Due to the provision of weighing through Web portal, mobile app and SMS and improvement in purchie issuance work through societies, middleman are also curbed.
This system, which is promoting the Digital promition Policy of the State Government, is being praised by the cane farmers on the social media platforms of the department and this system has also been appreciated by the public representatives related to the cane areas.
It was also told by the Commissioner that E.R.P. system has connected about 38.5 lakh cane supplier farmers to technology. It is evident from the fact that 98 lakh hits made by farmers to see their data on the website 'www.caneup.in' and about 6.50 lakh cane supplier farmer members have installed the 'e-Ganna' App in their mobiles.
Cane Commissioner has appealed to the Cane farmers for maximum use of 'e-Ganna' mobile app to take advantages of this ERP system. So that they can get the benefit of excellent digital services & with this integrated and transparent system of purchi issuance for supply their fresh cane to sugar mills in time and will get freedom from offices running to Offices.
To Listen Complete transparency in purchi issuance ensured through web portal news click on the play button.