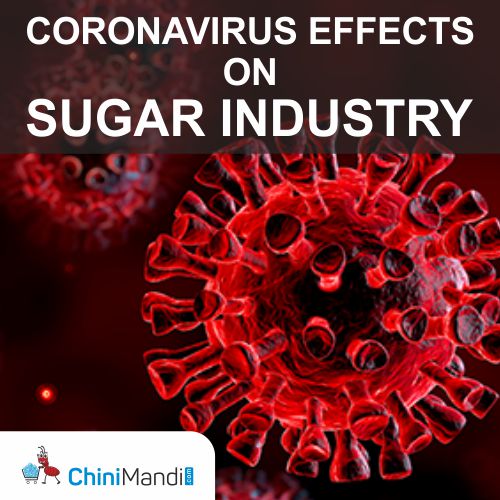 The spread of the coronavirus pandemic is spreading rapidly across the world, and the global economy has started witnessing situations of becoming dire, taking a toll on businesses harshly. Oil prices reacted too sharply to the news of the unsuccessful OPEC/OPEC+ deal. Altogether these events are sending shock waves through the rest of the energy and commodity markets, affecting trade flows and prices across supply chains and the globe. Everyone around the world is seated with jitters to know how strongly this blow will affect the sugar industry too.
In a conversation with ChiniMandi News, various stakeholders of the sugar industry expressed their views on how they see the trends in the sugar industry taking shape.

According to Mr.Narendra Mohan, Director – National Sugar Institute, "With CORONA CURFEW gripping more areas across the globe, it is going to affect many industrial sectors and sugar industry may not be an exception. Although, production may not be affected as a result of it, the consumption may take a back seat. The fear of CORONAVIRUS and lock-downs as a precautionary measure  with advisories on avoiding functions – social or religious and public gatherings is going to affect sugar consumption. Further initial news on various platforms on avoiding use of cold drinks, ice creams and other such products has also created doubts in the mind of common people causing consumption curtailment. In India, where the beverage and sweetener sector is the bulk consumer, it is likely to adversely affect the consumption. However, we have to wait for a few days to see change in the climatic conditions as with the rise in temperature, it is expected that this menace shall be automatically controlled. Thus, the real scenario shall emerge after a week or so."
According to Mr.Prakash Naiknavare, Managing Director – National Federation of Cooperative Sugar Factories, "It is indeed unfortunate that despite all positives prevalent in end Feb, COVID-19 has slashed International prices by 18% within a span of 15 days! Logistics are in shambles while buyers are shy of receiving sugar despite having contracted. In my opinion this ugly development of COVID-19 would bring down global consumption by almost 15 LTs.
Mr.Yatin Wadhwana, a strategy consultant, Trader & Founder – Gradient Commercial Pvt. Ltd , "We must look at it as two separate issues. The market movement related to the Corona Virus will be temporary until the world finds a cure or the media finds a diversion. Either of these events will be positive for sentiment and prices. The collapse in the Crude Oil prices is more related to KSA and Russia trying to prove their own dominance and is related more to egos than to economics or sentiment. The corollary to that is the announcement by the other OPEC members about increasing their own production. This will take longer to resolve as it involves geo-politics between two countries with relative deep pockets. In this case the overall crude price may not have much of an impact on Sugar if the Brazilian Govt decides to control the price of gasoline at the pump to try and build up the reserves of Petrobras, almost a reverse of the policy they had a decade ago. This will ensure that the Brazilian Mills do not switch to sugar in a big way. If this does not happen then we could see a switch of almost 8-9 mln MT back to sugar. In which case the global sugar deficit will not be as big as it is being projected."
Mr. C P Jayakrishnan, President – Business Development, Angre Port, "The situation around COVID-19 is rapidly evolving across the world. The pandemic has caused disruptions across sectors bringing exports and imports to a sluggish pace. A large part of this is due to the logistics sector experiencing adverse effects of COVID-19 outbreak, such as 14 day mandatory quarantine of vessels arriving from certain countries before they can berth at ports in India. Export of sugar to countries with these issues will be impacted more than others. Having said this, sugar being an essential commodity will continue to witness exports from India in containers, if not bulk, to various destinations less affected by the virus."
Mr. Harshveer Soni Founder – GreenLeaf Corporations and analyst in the sugar industry, "All the events are temporary in phenomenon and this one too shall start to recede soon. The globe knows about it now and extra care will be taken to fight against it till the time there is no permanent remedy available. In the midst of such crisis the demand destruction will surely happen for the steps taken to curb the spread. This will reduce the demand but not impact it too severely as consumption of food will continue to happen. Energy prices down should give relief from high inflation to emerging economies and is good for economies like India which rely on crude for 80% of its demand. Thus we should see growth in the economy in the long run with low crude prices. Sugar sector should see higher production from Brazil for crude now down and ethanol parity down too , the production shift is imminent. This shall fill the gap of thai shortfall and will keep supply balance and help reduce the deficit forecast.Real trading at low levels give better realisation to the brz millers in producing and exporting sugar than ethanol,Sugar sector like other sectors may have a short term jolt in demand but the long term story does not change too much. As we say every crisis brings opportunities, this one surely has brought opportunity for the Brazilian millers to look beyond ethanol"
A trader (who doesn't wish the name to be mentioned), "We have to factor in a loss on industrial sugar demand as the Government is putting up guidelines to restrict citizens movement, social gatherings etc. Some of the south east countries have already seen consumption loss. Household consumption may not see much impact. Having said that, with prices coming off in recent days, we may see offtake by gulf countries increasing due to Ramadan festival, that's the silver lining in the short term."
Rubi Solanki, Market Analyst at Cogoport –  Logistics Company, "Indian exports have been impacted severely in recent times, meat is down by 12-15%, rice by 35%- 40%, for Pharma there is an export ban on 13 API's and sugar hasn't escaped this wrath either. In terms of logistics, we are still taking stock of the situation however one clear comparison which is now becoming relevant is the financial crisis of 2008.  If that is to happen, we can expect a global 10% contraction in container volumes and a decline of 17 million TEU's in 2020. Adding to the woes, many functions in a shipping company can be performed online, however elements such as customs inspections, stuffing and stripping etc. require human intervention which will be impacted by lock downs."
 To Listen to this News click on the play button.