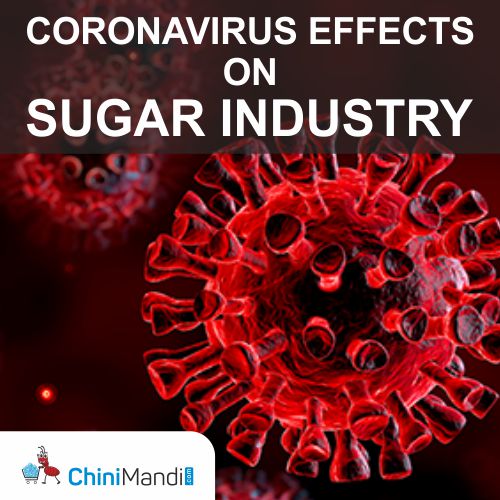 Majority of Indian sugar mills have suspended production in the wake of the COVID-19 that has affected almost 500 people across the country. The sugar mills have already been facing crisis of lack of demand and piling cane dues, where now coronavirus has made the situation even more worrisome with the entire supply chain being at stagnant. Sugar millers are in a sleep-stolen position with a big, unanswered question as to "When would we return back to normal?"
In conversation with ChiniMandi News, some millers expressed their views about the situation they are facing.
Mr.Yogesh Patil – Executive Director & CFO at Athani Sugars Ltd said, "Coronavirus has severely affected the sugar industry, we have already shut three of our sugar plants i.e Kempwad, Shahuwadi and Bhudargad, we will be shutting down Rayat today. We are already witnessing lack of demand, non-lifting of stocks, uncalled tenders and halt in trades. So far, we had performed well with sugar exports and still have some export contracts in hand. However, all in all the situation of coronavirus has made a stampede on the sugar industry. The toll on the domestic demand of sugar has been affected quite intensely; it has been probably the first time ever since we have faced such poor demand in the month March."
"We have been able to barely sell 35 to 37% sugar stocks so far, however the Government has taken the right step at the right time, by extending the time period to sell the sugar stocks of March 2020 and therefore I am sure it has added some hope to the millers to sell their stocks in the coming days, if the situation starts taking a positive turn. We are trying our best to overcome this situation and are still running our alcohol units with minimum staff to ensure we can do our bit by supplying the required quantity towards healthcare." He added.
Mr.Mahesh Deshmukh, Director at Lokmangal Group expressed that, "The pandemic has significantly hit the sugar industry in terms of trends in feasibility of performance, production capacity, consumer market, sugar exports or precisely every factor that is incorporated to make this wheel from farmer to consumer run smooth. Sugar millers have already started feeling the heat of financial stress with unsold sugar stocks, cane dues, unpaid interests etc."
"In the scenario of standstill, the position of every sugar miller is almost paralytic and the only solution is just wait and watch." He added.
Mr.P.G.Medhe – Honorary Expert Advisor at Chhatrapati Rajaram SSK Ltd, shared, "We at our sugar mill have completed our crushing operations, however some sugar mills are yet operational to ensure that their accounted sugarcane is crushed and farmers are not left in a suffering position, sugar mills are taking the necessary steps to prevent the workers from any infection, not forgetting that sugar is an essential commodity and for the same, millers are doing the needful. We are aware that the situation is just a phase that has to pass away and we are confident that the Government will keep taking the necessary measures to ensure that the industry doesn't end in a damaged situation."
According to reports, sugar mills have dispatched almost 30 lakh tons of sugar from their factories for export against Maximum Admissible Export (MAEQ) of 60 lakh tons till 15.3.2020. As per market sources, about 36-38 lakh tons of sugar have been contracted for exports so far. The COVID-19 impact has also reduced sugar off-take from sugar mills in the last 15 days or so. It is understood that sugar in the pipeline would have got sold in the wholesale and retail market in the last couple of weeks. Experts in the market our optimistic about fresh buying from the sugar mills to take place soon since the pipeline would have largely dried up during the last couple of weeks. That should control sugar prices and the buying should help the sugar mills.
In an order passed on 23rd day of March 2020, the Department of Food & Public Distribution extended the time period of march sugar quota by 15 days i.e. till 15th April, 2020 considering the unprecedented and unfortunate situation arisen due to the spread of COVID-19