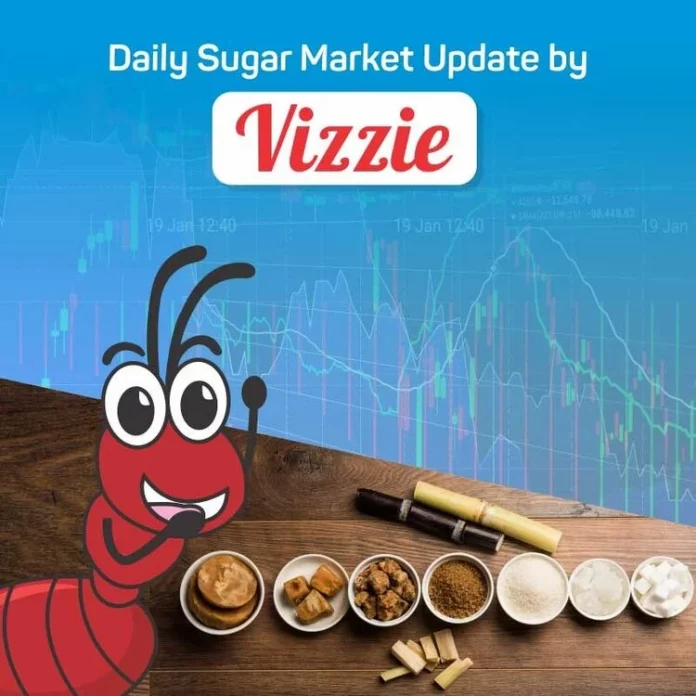 ChiniMandi, Mumbai: 29th July 2023
Domestic Market
Domestic sugar prices traded positive
Domestic sugar prices rose due to strong demand. Despite the increased quotas, prices in the major markets were reported to be Rs 10-20 per quintal higher. The food ministry has set a monthly sale quota of 23.50 lakh tons for August, with an additional unsold quantity carried for 15 days extension. Market participants estimate that the unsold quantity is between 1.5 and 2.0 lakh tons.
In Kolhapur, S-grade costs between Rs 3,470 and Rs 3,510, while M-grade costs between Rs 3,640 and Rs 3,680 in Uttar Pradesh.
According to AgriMandi.live, the price of S grade is expected to trade in the Kolhapur markets between Rs 3,440 and Rs 3,550 per quintal in the near future.
Ex-mill Sugar Prices as on July, 29 2023 :
State

S/30

[Rates per Quintal]

M/30

[Rates per Quintal]

Maharashtra

₹3500 to 3550

₹3600 to 3650

Karnataka

₹3530 to 3600

–

Uttar Pradesh

₹3600 to 3700

Gujarat

₹3531 to 3551

₹3631 to 3651

Tamil Nadu

₹3560 to 3700

₹3750

Madhya Pradesh

₹3670 to 3680

₹3740 to 3750

Punjab

₹3755 to 3786

(All the above rates are excluding GST)
Destination-wise Spot Prices as on July, 29 2023 :
| | | |
| --- | --- | --- |
| City | Grade | Rate |
| Delhi | M/30 | ₹3906.00 |
| Kanpur | M/30 | ₹3843.00 |
| Kolhapur | M/30 | ₹3790.50 |
| Kolkata | M/30 | ₹3990.00 |
| Muzaffarnagar | M/30 | ₹3843.00 |
News Round-Up
Pakistan's Punjab govt initiates action to control rising sugar prices
Pakistan's Punjab govt initiates action to control rising sugar prices
Farmers demand payment of pending cane dues
Farmers decide not to supply cane to the mills failed to clear cane payment
Farmers decide not to supply cane to the mills failed to clear cane payment
Biodiesel from Acid Oil, a waste by-product of vegetable oil refineries: An economic resource for Biodiesel Activities
Biodiesel from Acid Oil, a waste by-product of vegetable oil refineries: An economic resource for Biodiesel Activities
Heavy rainfall wreaks havoc in Jaipur, markets under water