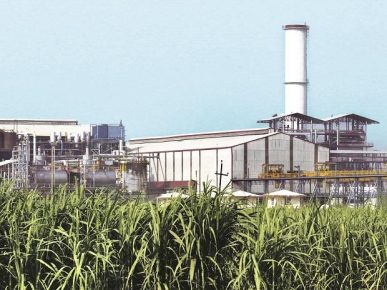 Barely a week after a sharp increase in ethanol procurement price, sugar mills have started approaching lenders to source working capital to revive idle distillation capacity installed years ago.
India has a total installed ethanol production capacity currently of 2,750 million litres. According to apex industry body, Indian Sugar Mills Association (ISMA), nearly a fourth of around 530 existing sugar mills have offered 2,002 million litres of ethanol supply to oil marketing companies (OMCs) against a requirement of 3,136 million litres for 10 per cent blending with petrol. Of the offered quantity, however, OMCs led by Bharat Petroleum Corporation Ltd (BPCL) finalised tenders to procure 1,635 million litres for the supply season 2017-18 and lifted only 1,133 million litres as of September 10.

Apart from that, independent distilleries have also participated in ethanol supply tenders floated by the OMCs. These distilleries produce the green fuel from other sources suc as grains as well. Considering the offered quantity as the benchmark, nearly 27 per cent of installed capacity at sugar mills remained unutilised.
"With the government's focus on increasing ethanol supply this year, sugar mills would try to exploit their full potential this year. Many distilleries have started working on raising working capital to start factories early this year. I am expecting at least 500 million litres of new capacity to come on stream this year," said Atul Chaturvedi, Vice Chairman, Shree Renuka Sugars Ltd.
Forecasting a bumper cane output to yield a record 35.5 million tonnes of sugar for SS 2018-19 beginning October 1, the government in June announced Rs 44.40 billion of incentives, including Rs 13.32 billion of interest subvention for five years. Deeming the incentives insufficient to bail out existing distilleries and attract fresh investment, the government raised ethanol prices in September.
The Cabinet Committee on Economic Affairs (CCEA) raised the procurement price of ethanol from 100 per cent sugarcane juice to Rs 59.13 a litre from the existing Rs 47.13. Also, the price for ethanol produced from B-heavy molasses was hiked to Rs 52.43 a litre from the current Rs 47.13. The price of C-heavy molasses, however, was reduced marginally to Rs 43.46 a litre from Rs 43.70 a litre earlier.
Further, in order to encourage sugar mills to produce ethanol directly from cane juice, the Ministry of Consumer Affairs on Tuesday allowed mills to sell additional quantity of sugar equivalent to total quantity of sugar diverted by the mills for production of ethanol (from B-heavy molasses or sugarcane juice), over and above the quantity of sugar to be sold during a month as per stock holding limit order issued for each month. Under this, every 600 litres of ethanol could be treated as one tonne of sugar sacrificed.
Encouraged by the sops, over 200 sugar mills and independent distilleries have sent their proposals for both greenfield and brownfield expansion of their ethanol capacities.
"We are one among hundreds of distilleries that have applied with lenders for fund raising to avail the government's interest subvention scheme. Certainly, sugar mills will be using all avenues to maximise ethanol production this year," said a senior industry official.
Tarun Sawhney, chairman and managing director of Triveni Engineering, estimated nearly Rs 130 billion in new investments in distilleries this year.
Increased supply may help India achieve four per cent of ethanol blending for 2018-19 which slipped to 3.5 per cent (665.10 million litres) in 2016-17 after achieving 4 per cent (1,109.59 million litres) the previous year.