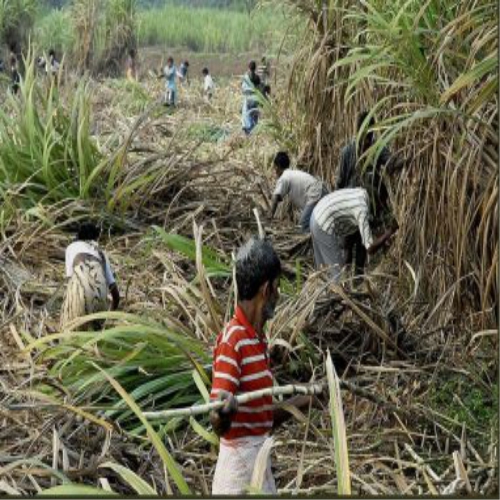 Lucknow: Commissioner, Cane and Sugar Shri Sanjay R. Bhoosreddy told that to solve the problems of sugarcane farmers and to bring cleanliness and transparency in purchi issuance and other work done by Cooperative Cane Societies ERP modules has been developed and this system is proving to be helpful for sugarcane farmers even during the lockdown period. He informed that in this system all the information to the cane farmers is being made available through the online portal www.caneup.in and E-Ganna app sitting at home, and the farmers are getting instant information about the ganna purchie on their mobiles through SMS.
Shri Bhoosreddy also told, that in this erp system all the information's is easily available to the Cane farmers, and with this arrangement, the cane farmers can supply their cane to the sugar mills at the right time even during the lockdown period. He also told that 5.75 crore ganna purchi have been issued to 40.42 lakh sugarcane supplier farmers of the state, out of which around 9 lakh small farmers have been issued about 25 lakh ganna purchi. The website www.caneup.in has been hit 2 crore 04 lakh times and About 6 crore 88 lakh times farmers had viewed their data on the ERP website. 16 lakh 10 thousand farmers have downloaded E-Ganna app and about 39.81 crore hits of the app has been achieved till now.
It is also noteworthy that along with website www.caneup.in and E-Ganna app for effective grievance redressal, inquiry terminals have also been set up at cane society level. A 24X7 toll-free number 1800-121-3203 has been established at the headquarters by the sugarcane department. 24X7 Toll-free number 1800-103-5823 has also been established by ERP provider for information related to cane marketing. The mafias and middlemen have been curbed Due to the provision of weighment through SMS purchi and strengthening and administrative reforms of the cooperative cane development societies.

Cane Commissioner, also told that Due to the availability of ganna purchi through SMS on mobile, the cane farmers did not have to move out of their houses for ganna purchie, which prevented the spread of the Corona Pandemic along with the compliance to social distancing.