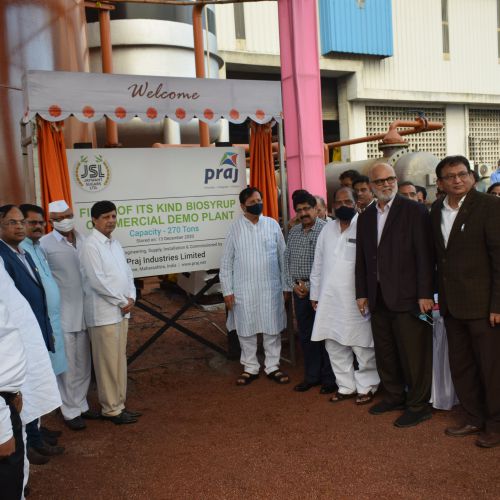 India is aiming to achieve energy security and transition towards a thriving low carbon economy which is critical for a growing nation like India. Blending locally produced ethanol with petrol will help India strengthen its energy security, enable local enterprises and farmers participation in the energy economy and reduce vehicular emissions. In the recent supply ethanol trend it has been observed that there is a consistent shortfall of ethanol supply between the end of the crushing season and beginning of crushing season. At present 91% fuel ethanol is supplied by the sugar sector. There is further an opportunity for the sugar sector to maximize revenue by diverting excess sugar. In EBP 18 & subsequent measures taken, Sugarcane juice/syrup has come up with prominence offering the highest ethanol rate & achieving diversion of excess sugar hence maximizing the revenue. However, syrup is seasonal feedstock and being a perishable feedstock have availability issues for round the year operation.
BIOSYRUP® Technology is an innovative technology solution (patent) from Praj Industries Ltd. that offers storage of sugarcane syrup round the year without any degradation of fermentable sugars, allowing the sugar sector to offer syrup based ethanol even in off-season, increasing production capacity, diverting excess sugar & maximizing revenue.
On 3rd December, 2021 Maharashtra Sahakari Sakhar Sangh alongwith M/s. Jaywant Sugars Ltd. & Praj Industries Ltd. organised an event for global launching of this innovative technology solution. The technology is said to revolutionize the sector enabling ethanol production by syrup even during off-season increasing ethanol availability.
The plant was inaugurated in esteemed presence of Mr. Jayprakash Dandegaonkar – President, National Federation of Cooperative Sugar Factories, Dr. Pramod Chaudhuri – Founder Chairman, Praj Industries, Mr. Shekhar Gaikwad – Commissioner of Sugar Maharashtra State, Mr. Sanjay Khatal – MD – Maharashtra State Co-Operative Sugar Factories Federation Ltd. , Mr.B B Thombare – President, WISMA, Dr. Suresh Bhosale – Founder Chairman Jaywant Sugars & Krishna Sahakari Sakhar Karkhana.
Speaking on the occasion Mr. Sanjay Khatal MD – Maharashtra State Co-Operative Sugar Factories Federation Ltd. said, "Ethanol is the game changer both for the Nation as well as the Sugar sector. Currently sugar mills attached distilleries are only benefited by GoI's National Biofuels policy 2018 (NBP).
Storability of Juice/ Syrup, which is a formidable challenge, has been adequately addressed by Praj Industries with the launch of BIOSYRUP®, a sustainable feedstock for ethanol production beyond sugar season. As BIOSYRUP® can be traded; small sugar mills without distillery can be benefitted from this. They can trade BIOSYRUP® with standalone distilleries and avail benefits of NBP.
Sugar units are not viable for plants with annual crushing capacity between 4 to 5 lacs Tonnes. Producing 100% BIOSYRUP® by such units will not only address excess sugar production challenges but will also facilitate sustained cash flow translating into timely payments to the farmers.
Governments now need to take note of this development and consider giving attractive prices for ethanol produced from BIOSYRUP®and also advise bankers to address issues of stock pledge for timely FRP payments. Since very low quantity of diluted spent wash is generated during production of ethanol from BIOSYRUP®, government must consider allowing its bio-composting"
Explaining about the technology during the gathering, Mr. Atul Muley, Praj Industries explained that BIOSYRUP® is a product of hydrolysis of cane syrup to convert sucrose into glucose and fructose. The inverted sugar syrup of concentration up to ~80-85 brix is stored and used as feedstock for ethanol production. In existing sugar factories a new section of bio-invigorator is added which acts as a feed conditioning, optimizing the enzyme consumption.
Praj Industries Ltd. has implemented this technology on a commercial scale at M/s. Jaywant Sugars Ltd. and has successfully been able to store syrup for more than 10 months now. This R&D effort has been validated by one of the premier sugar research institutes Vasantdada Sugar Institute (VSI) and has shown promising results in terms of no sugar loss with no contamination.
Advantages of BIOSYRUP® technology
1. Round the year operation for sugar mill attached distilleries.
2. Effective feedstock for standalone distilleries.
3. Source of additional revenue for sugar mills not having distilleries.
4. Assurance of supply of ethanol to OMC's during off-season
5. Lowest effluent generation
6. Sugar mills without any distillery can produce BIOSYRUP® for sale."
Sharing views on the launch, Dr. Suresh Bhosale, Founder Chairman Jaywant Sugars said, "Today is a very important day in the sugar industry because we are coming forward with a new technology. Any new technology would be welcomed if it is coming at the right time, I think there would have been no better time to bring this technology for us than today. I represent the sugar factories and if we look back, the last 2 to 3 years have not been really good for us, in spite of being the largest consumer of sugar in the world we produce sugar way beyond our requirements and this has resulted in very tall carry forward stocks, heavy dues etc. Ethanol has come as a game changer for the sugar industry and sugarcane is a National asset for us, with the introduction of such technologies sugar factories are likely to be called as energy producing units and not sugar factories and we'll be able to give a really good return to farmers. I congratulate Praj Industries & VSI for doing a very good job."
Addressing the gathering, Mr.Shekhar Gaikawad, Commissioner of Sugar – Maharashtra State said, "Currently India has a surplus sugar production of 6 MMT which blocks the liquidity of sugar mills for 18 to 24 months. Diverting sugarcane juice to ethanol production is the only sustainable way forward for sugar mills in the long term. I congratulate Team Praj for achieving such a great milestone which I am sure will become a game changer not only domestically but also in the global sugar sector at large."
Sharing views during the launch of the technology, Mr.Jayprakash Dandegaonkar – President, National Federation of Cooperative Sugar Factories said, "Since the last 3 to 4 years sugar has been quite bitter for the farmers and sugar producers, this year due to a global deficit the international prices have been fruitful to Indian millers. This new technology is a new hope for the sugar industry, while the implementation of the technology will improve the profitability of millers it will also open a new avenue of constant energy creation through farmers."
Speaking at the Global Launch, Dr. Pramod Chaudhari – Executive Chairman Praj Industries said "This is a landmark development for the sugar industry that is facing market headwinds. BIOSYRUP® technology will help sugar mills sweat their assets and report better financial performance. Importantly this will step up ethanol production to meet 20% EBP targets. Coupled with advances in logistics, BIOSYRUP® technology is helping nationwide production and realization of 'Anytime Anywhere Ethanol.' Praj has always taken pride in developing and deploying innovative solutions for helping uplift the farmers community and boost the rural economy. I gratefully acknowledge continued cooperation of the Commissioner of Sugar, VSI, Sakhar Sangh- Mumbai and Jaywant Sugar in this initiative. Our customers around the world are showing strong interest in this technology."
Various other dignitaries from the sugar industry graced the event physically and virtually. Following its launch last week, BIOSYRUP® is catching attention from non-sugar states around the nation in addition to the sugar industry and is seen as a milestone in the evolution of India's ethanol industry in its growth journey.